Dark Web News
The Top 5 Chinese Platforms on the Deep and Dark Web in 2023
In recent years, the deep and dark web has witnessed a significant surge in activity from China, a nation known for its stringent internet regulations and robust digital surveillance infrastructure. Despite the challenges posed by the Chinese Great Firewall, a growing number of Chinese users have found ways to access and use the deep and dark web.
Their motivations are diverse, ranging from hacking and cybercrime activity to illicit trade in drugs, weapons, and counterfeits. According to our analysis, Chinese platforms on the dark web are more skewed towards marketplaces than forums, indicating a robust underground economy.
This article will introduce you to the top five platforms in Chinese, often with servers located in China and Chinese admins, currently operating in the deep and dark web, in an attempt to shed light on the scale and nature of China's footprint in the dark web ecosystem.
What are the top Chinese platforms on the deep and dark web in 2023?
Chang'An Sleepless Night

Platform type: Marketplace (with an associated Telegram channel)
Launched: December 2021
Main topics: Services (hacking and money laundering), stolen PII and PHI (Protected Health Information), carding and CVV, physical items (IDs and drugs), leaked databases, and counterfeit document templates.
Chang'An Sleepless Night is a rising dark web marketplace known for its diverse listings, from stolen data to hacking services. The platform's user-friendly interface, escrow service, and adaptability to multiple cryptocurrencies make it a preferred choice for many users. 
By operating an official Telegram channel which is used to increase user engagement and share updates, it has quickly established a reputation as a reliable source within the dark web community.

Exchange Market (交易市场), also known as DeepMix

Platform type: Marketplace (originally a forum)
Launched: Founded in 2013 (as a forum), transitioned into a marketplace in 2015
Main topics: Illicit goods, hacking tools, financial fraud tools, and cybercrime services
Founded as the "Chinese Darknet Forum" in 2013, Exchange Market (交易市场), also known as DeepMix, evolved into a marketplace by 2015. The platform, which has prioritized user anonymity, offers a range of illicit goods and services, predominantly catering to Chinese users. Despite facing DDoS attacks and rebranding challenges, it has remained a significant player in the Chinese darknet ecosystem.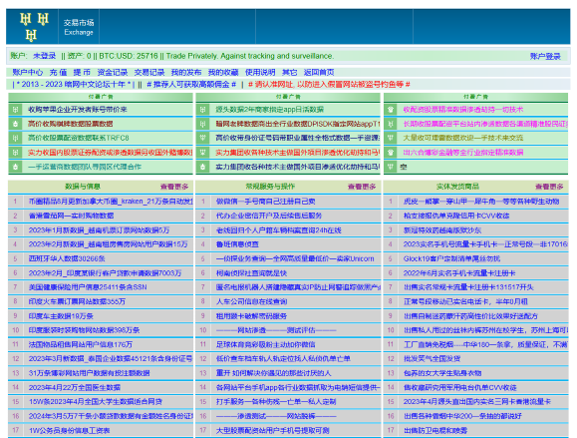 FREECITY

Platform type: Marketplace and forum
Launched: 2016
Main topics: Compromised data and accounts, physical and virtual goods, WeChat stolen data, credit cards (CVV & BIN no.), dark web news, digital asset information, hacking discussion, developer tools, and resource sharing
FreeCity is a multifaceted platform that operates in English, Chinese, and Korean. It is divided into two main sections – forum and marketplace, and offers a diverse range of goods and services, from compromised accounts to physical items. The operators of this site remain anonymous but maintain an active presence on Telegram.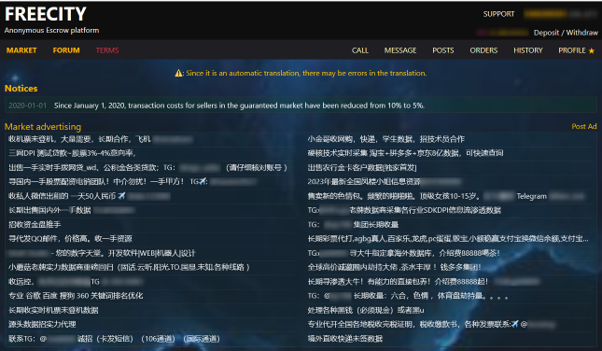 I love cracking (52pojie)

Platform type: Forum
Launched: March 2008
Main topics: Software encryption, decryption, Android cracking, virus analysis
I love cracking (52pojie) is dedicated to software security, with a particular emphasis on hacking-related topics such as software encryption and decryption. The forum stands out for its high user activity and the quality of its posts. It has managed to thrive for over a decade in the often controversial field of software cracking, due to the proactively of its admin team. Because the forum has remained loyal to its offering, it has established a loyal following, making it a prominent Chinese platform for discussions on hacking-related topics.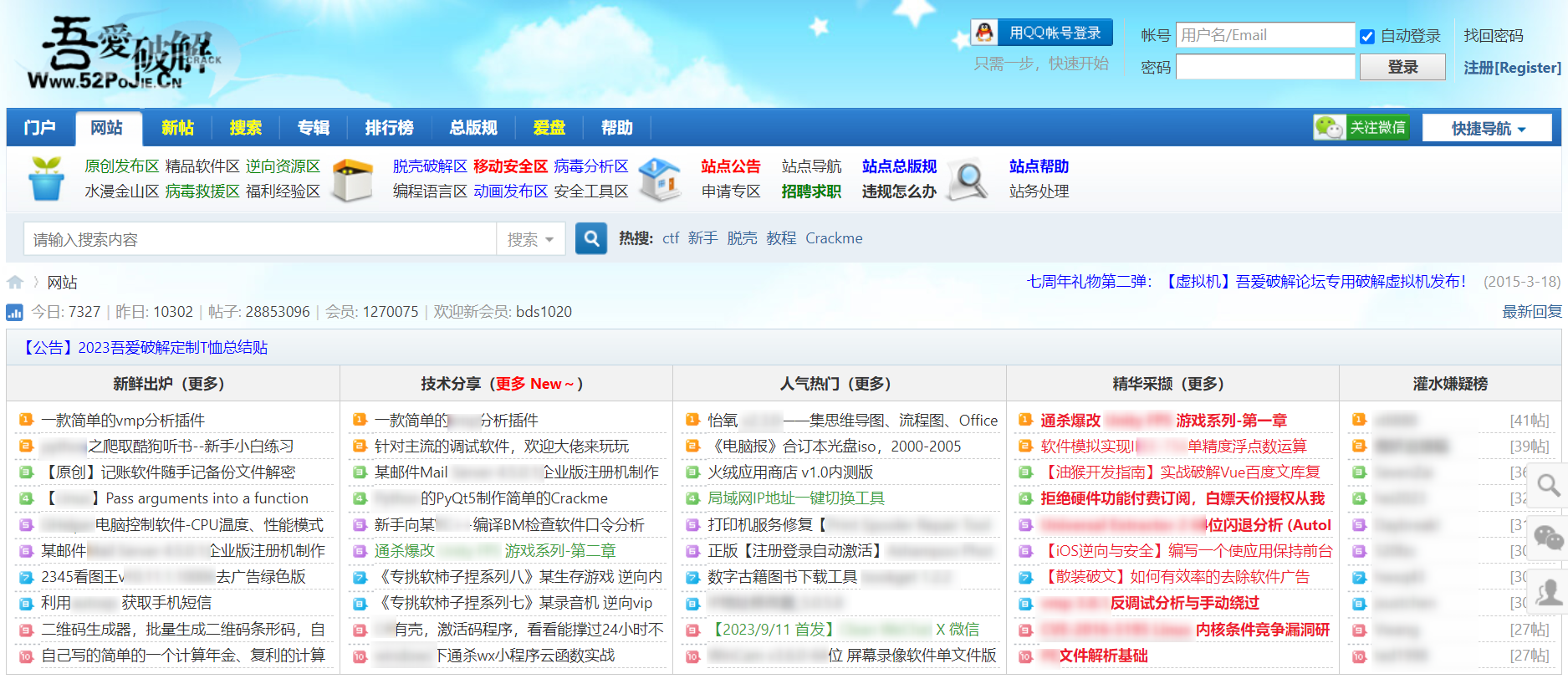 Tea Horse Road Market Telegram channels

Platform type: Telegram Channel
Launched: 2021
Main topics: Trade of goods (virtual and physical), money laundering, sale of stolen data, and offering services, and jobs related to these topics
Tea Horse Road, a Chinese dark web marketplace, began operations in April 2020 and ceased in November 2021, lasting approximately 19 months. After its sudden shutdown, images of its main page surfaced in cybercrime combat reports. 
Since the web platform of Tea Horse Road Market shut down, loyal vendors of this site operate Telegram channels associated with this market. The vendors now use these Telegram channels as a platform to keep this community alive and contact other vendors to trade various illicit goods and services.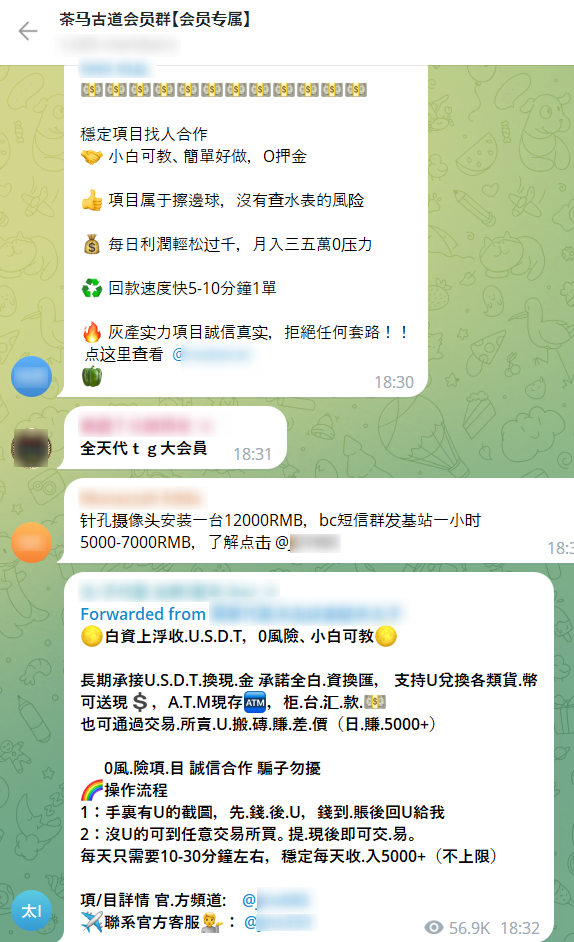 Why should you monitor Chinese deep and darknet platforms?
With the constant rise in cyber threats, it is essential to monitor every illicit platform that could pose a threat to your business or customers. The top 5 Chinese platforms on the deep and dark web have emerged as significant hubs of illicit activities. Monitoring these kinds of platforms is key as they often serve as breeding grounds for new malware, vulnerabilities, and cyber-attack strategies.
Yet it is hard to keep track of all sources, as they keep shutting down and resurfacing. The best way to ensure full coverage of all key deep and dark web sources, in multiple languages, such as Chinese, is to use professional dark web data providers, such as Webz.io's Dark Web API, which provides real-time insights and comprehensive data from these platforms
By keeping a close eye on these Chinese deep and darknet platforms, you can better understand emerging threats, adapt your defenses, and ensure a safer digital environment.