Web Intelligence
The Top Threats to Governments and Law Enforcement on Alternative Social Media
In recent years, there has been a rise in the number of alternative social media platforms that aim to provide an alternative to mainstream platforms like Facebook and Twitter. The alternative platforms have gained attention due to their commitment to free speech and lenient content moderation policies compared to mainstream platforms, where users can be easily banned after sharing their radical opinions. As a result, alternative social media platforms often contain extremist content such as hate speech, radical ideologies, and misinformation.
In this article, we'll highlight common threats to governments and law enforcement that are found on alternative social media platforms, and examine how monitoring such platforms can effectively reduce their level of threat and impact.
The top 4 threats to governments and law enforcement on alternative social media
#1: Radical discourse against governments and law enforcement
One of the most common threats against governments on unregulated social platforms is radical discussions. These platforms have become an online community for civilians to promote propaganda and rapidly spread violent discourse targeting government and public institutions, especially following controversial policy decisions. Civilians who oppose their country's policies find common ground and support in these platforms, where like-minded individuals gather for protests and acts of civil disobedience. This undermines constructive dialogue, creating an environment of confrontation and at times, provides a safe space and legitimacy to express extremely violent discussions and acts against governments and law enforcement.

Below is an example of a French radical user posting content against the French government following recent protests relating to raising the pension age in the country: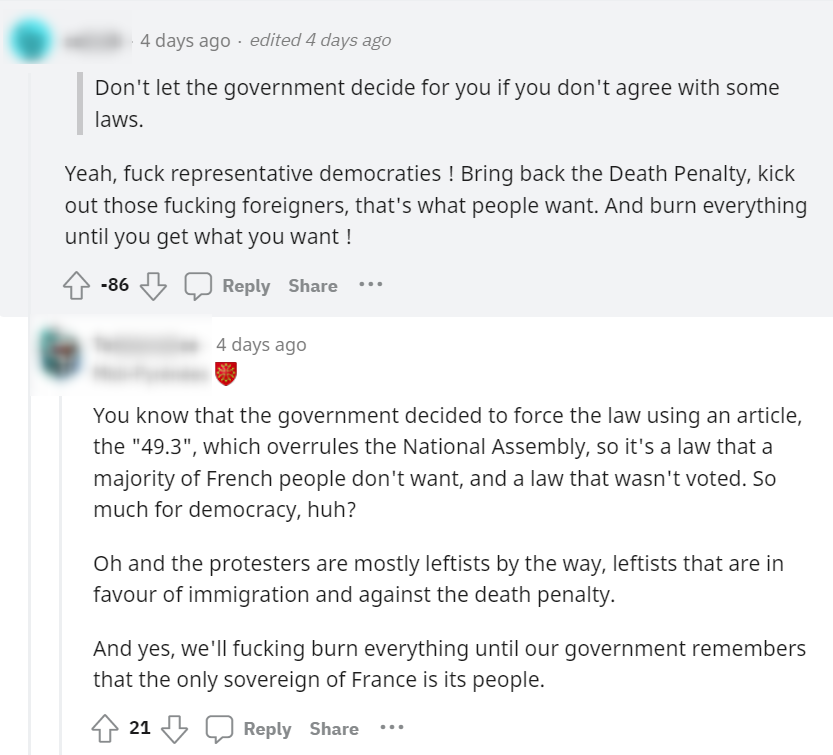 We used Webz.io's Cyber API to examine the level of activity of the radical French user mentioned above who has been protesting against the pension policy in France. The chart below shows his level of activity from January to April 2023: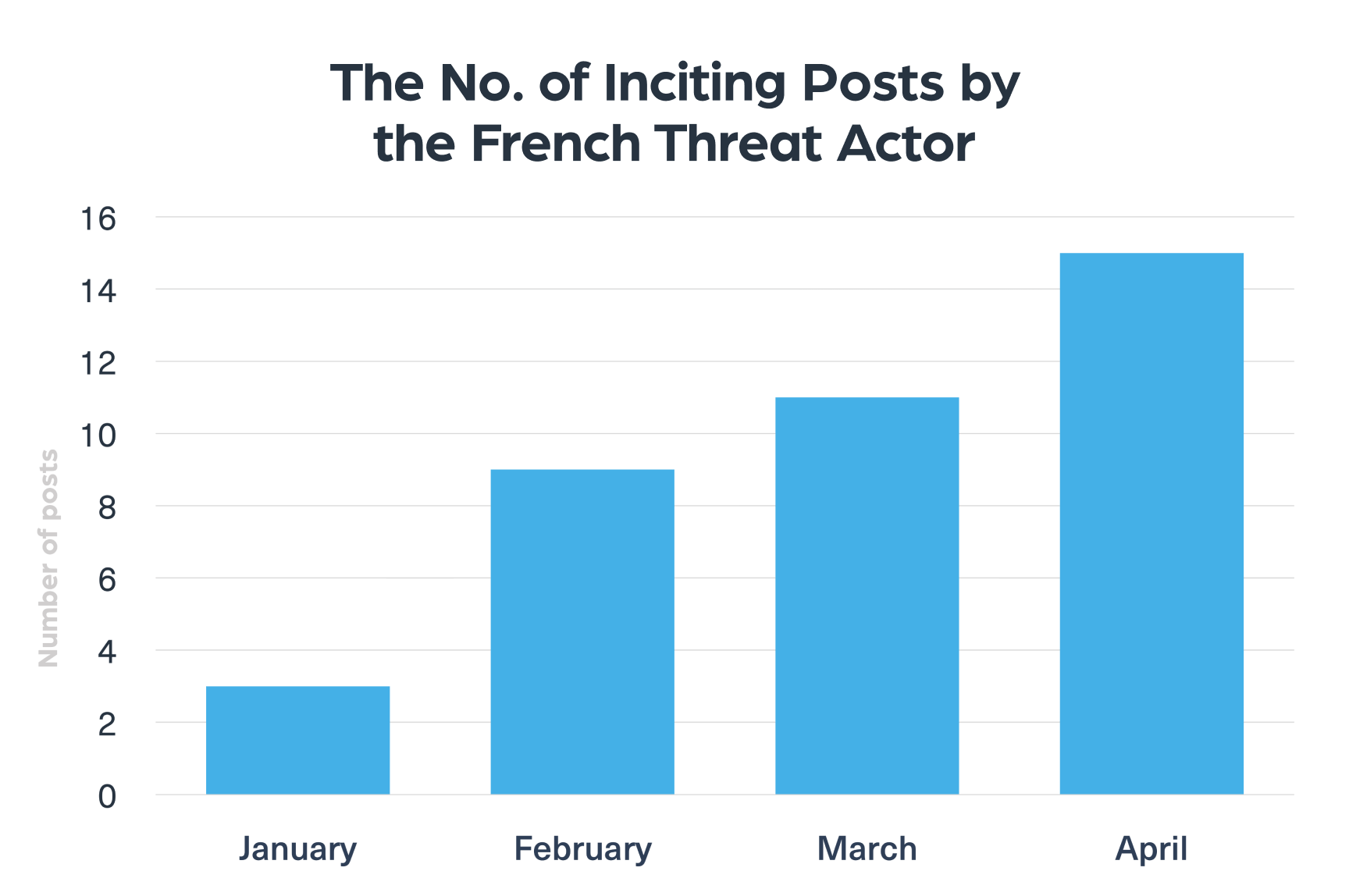 This individual is known for his active participation on social media, where he voices his strong opposition against the government and sometimes incite others to do the same.

Another example of similar threats can be found in the following post of a Greek user who is calling to boycott his country as part of the protests in the country following a train accident that caused the death of 57 people.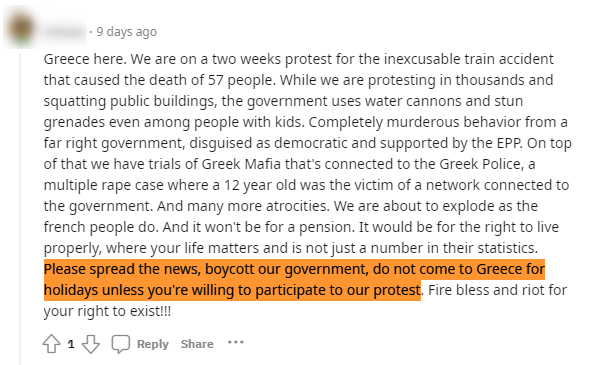 The users are protesting against what they call "a far-right government". The protestors expressed anger over safety deficiencies in Greece's railway network and demanded that those in charge should be held responsible. Posts as such often become viral and might even lead to the establishment of anti-government groups.
#2: Online threats to public leaders and government officials
Alternative social media has become a mainstream platform for expressing anger and threats against public leaders and their policies. Online threats can range from hate speech and personal attacks to direct threats of violence against individuals in positions of power. For example, political leaders may be the target of abusive messages and harassment, whether carried out as organized campaigns or by individuals, on alternative social media platforms.

The example below shows one comment in a thread about a picture of President Volodymyr Zelensky with the Pope, where a threat actor is stating that Zelensky "needs to be killed".

Several extremist users express violent intentions and hatred of Jews in this same thread because Zelensky himself is Jewish.
#3: Radical movements and extremism
Radical movements and extremist groups see alternative social media platforms as the perfect online space to spread their extremist and violent ideology and recruitment of other radical supporters.
These topics have long been an integral part of alternative social media platforms and the more extreme groups and individuals recognize this, the more it becomes popular and a key tool for spreading hate speech and violence. This is a huge threat to governments as it leads to the radicalization of individuals and even organized violence.
Another concern is the use of radical users of these unregulated platforms to manipulate and spread propaganda, which in turn damages public trust in institutions, undermines democratic processes, and fuels social unrest. Many governments are concerned about the ability of these movements to radicalize individuals and inspire real-world actions that pose a risk to national security and stability.
Below is an example of a user with Neo-Nazi beliefs who is based in France.

The screenshots show a threat actor's attempt to recruit members of other far-right groups to join the movement "French Pro-White Socialist" in order to create a broad pro-fascist movement throughout the world. Alongside this, the user publishes a URL of a Tor website and email details for contact and further information.
#4: The spread of misinformation and disinformation
Another challenge to governments and public bodies on alternative social media is the spread of misinformation. These platforms allow users to spread false information, whether on purpose or not, which in turn can be used to disturb public order and safety, and even call for violence.
Moreover, the distributed nature of these platforms makes it difficult to implement consistent fact-checking mechanisms and combat the rapid spread of false information.
In the following example, you can see a page called vaccineregrets that disseminates information about why citizens should not get "Western vaccinations" against Covid-19 since it's a scam.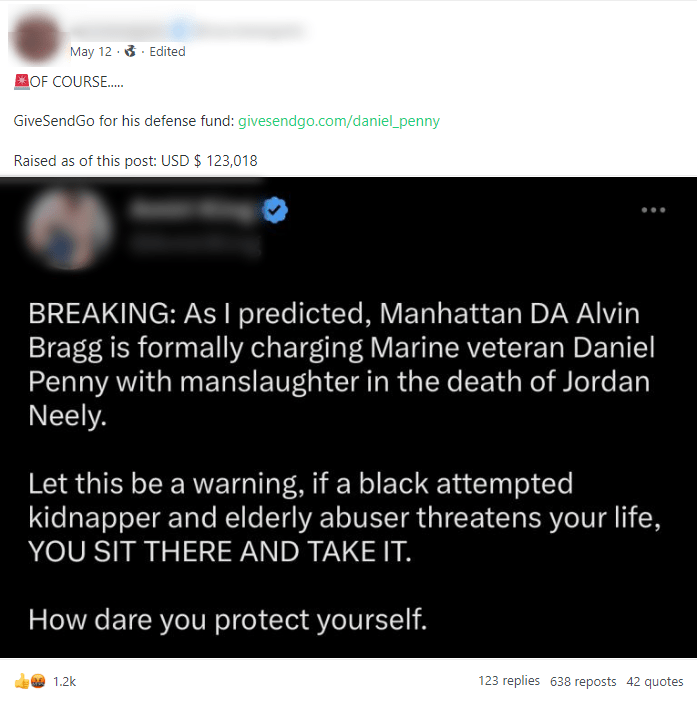 This is only one example of a widespread anti-vaccine movement, which became extremely popular during the Covid pandemic, where civilians were called not to get vaccinated against diseases such as Covid, sexually transmitted diseases, cancer, etc.
What's next?
The rise of alternative social media platforms leads to heightened radical and violent public discussions. These platforms continue to host violence discussions and calls for actions that undermine and destabilize public safety.
The decentralized nature of these platforms, coupled with their commitment to free speech and less stringent content moderation, makes it difficult for authorities to monitor and regulate harmful content effectively, and on the other hand makes these platforms serve as breeding grounds for the spread of conspiracy theories, violent discussions and call for extreme organized action, increasing divisive narratives and promoting a culture of polarization.
This development, which has only increased over the past years, poses challenges for governments and law enforcement in their efforts to protect public safety. In order to prevent radicalization, counter online hate, and maintain public safety, proactive efforts need to be taken.