Dark Web News
Raidforum is Seized: Where will its Users Go Now?
Raidforums' website has been seized by an unnamed party on February 25, according to its admin.
The popular mainstream hacking forum, which had been operating since 2015 and and has since served as a platform for hacking tutorials and discussions, is down and has been replaced by a phishing page. The reason Raidforums was taken down remains a mystery as no official government or hacking group has claimed responsibility for its closure.
In the image below, the Raidforum's admin announced the forum was seized on the forum's official group on Telegram on February 25. A few days later, on March 4, the admin clarified that Raidforums wasn't "replaced by another forum."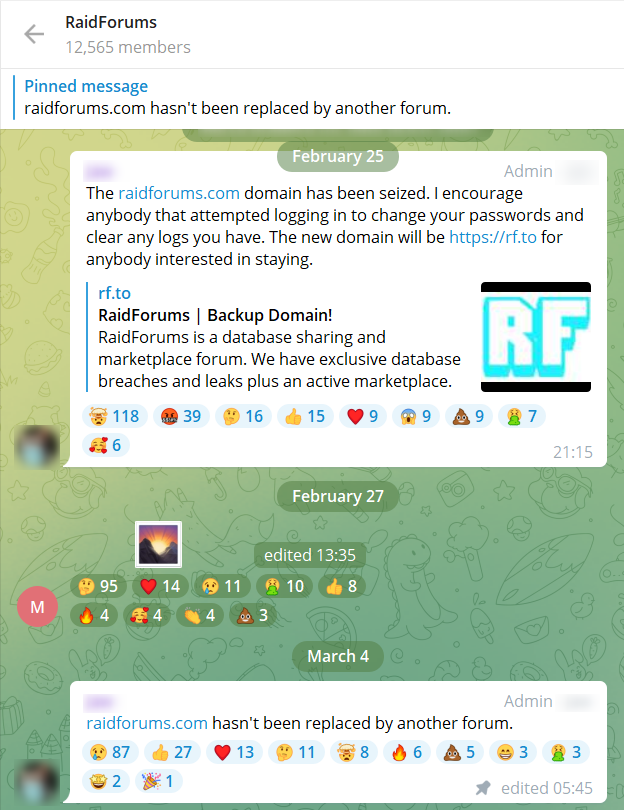 This isn't the first time we witness a hacking forum ceasing its activities. But this development is an unusual event for several reasons:
Raidforum was a major and stable hacking forum
The reason for its apparent closure isn't known yet
No hacking group or governmental agency has claimed responsibility for this incident so far
The timing question – in other words: does it have to do with the hybrid war between Russia and Ukraine?
Although no official body has confirmed it until now, the timeline of Raidforums' takedown overlaps with the cyber war that has taken place as the Ukraine-Russia crisis developed.
Below you can read a post in which Raidforums' admin condemns Russia's actions against Ukraine and announces the decision to ban Russian users from the forum.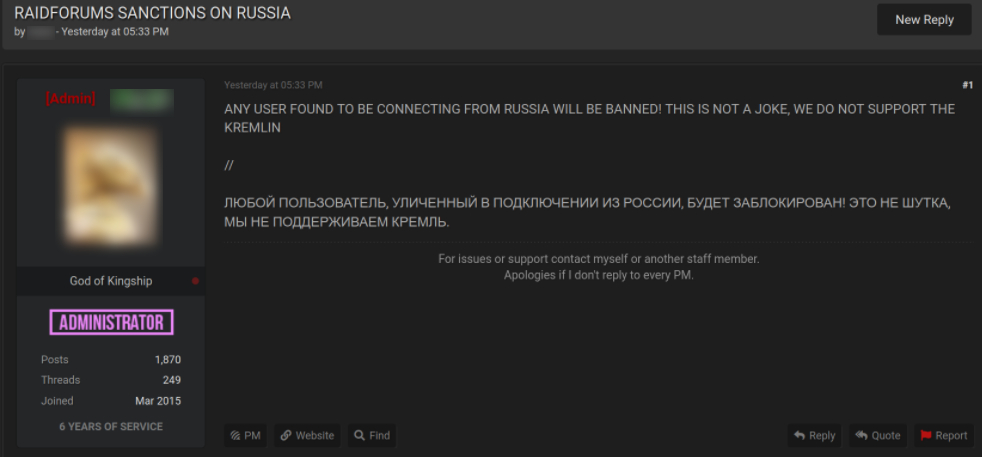 The timing of the takedown may suggest that because the admin team picked sides in the conflict, Raidforums was seized.
Where are Raidforums' users going?
Once a hacking forum closes, we often see the migration of its users to other similar platforms. In order to track the forums which Raidforums' users turned to, we identified their top users and searched in which deep and dark web forums they were active since it was seized.
According to our data, the top 5 forums former Raidforums users were active on are:
Cracked
Eternia
Eleaks
XSS
Blackhatworld
Since Raidforums was seized, we searched through our data and found an increase in the number of users among similar forums such as Crackx, Altenens, Fssquad, Wwh-club, Dread: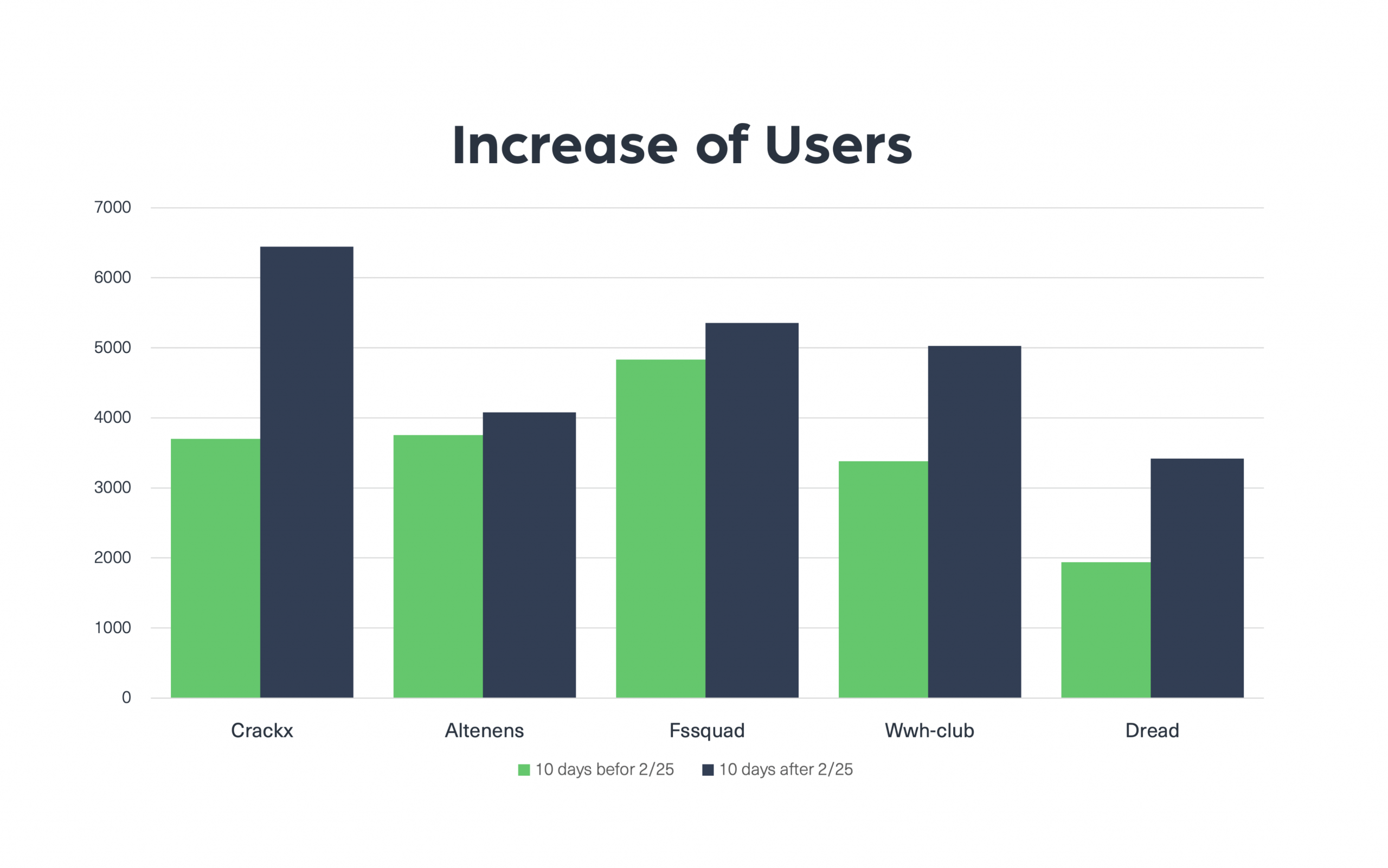 Another trend we have identified is a general increase in the number of posts on these forums as shown in the chart below:
An interesting point to note is that both XSS.is and WWhclub, which are Russian-based hacking forums, are among the forums that Raidforums users have turned to. This of course has led to the increase in the level of activity since Raidforums was taken down. We can speculate that some users chose to join these sites because Raidforum's admin announced he would ban Russian forum members.
We also searched across the deep and dark web to see if we can find discussions among former Raidforums users after the forum was seized. Just like our previous inconclusive findings, which did not point to a specific forum they would migrate to, it seems that ex Raidforum users are also looking to find their next hacking forum.
Below you can see an example of one of these posts, where a Raidforums member is in search for a new alternative forum: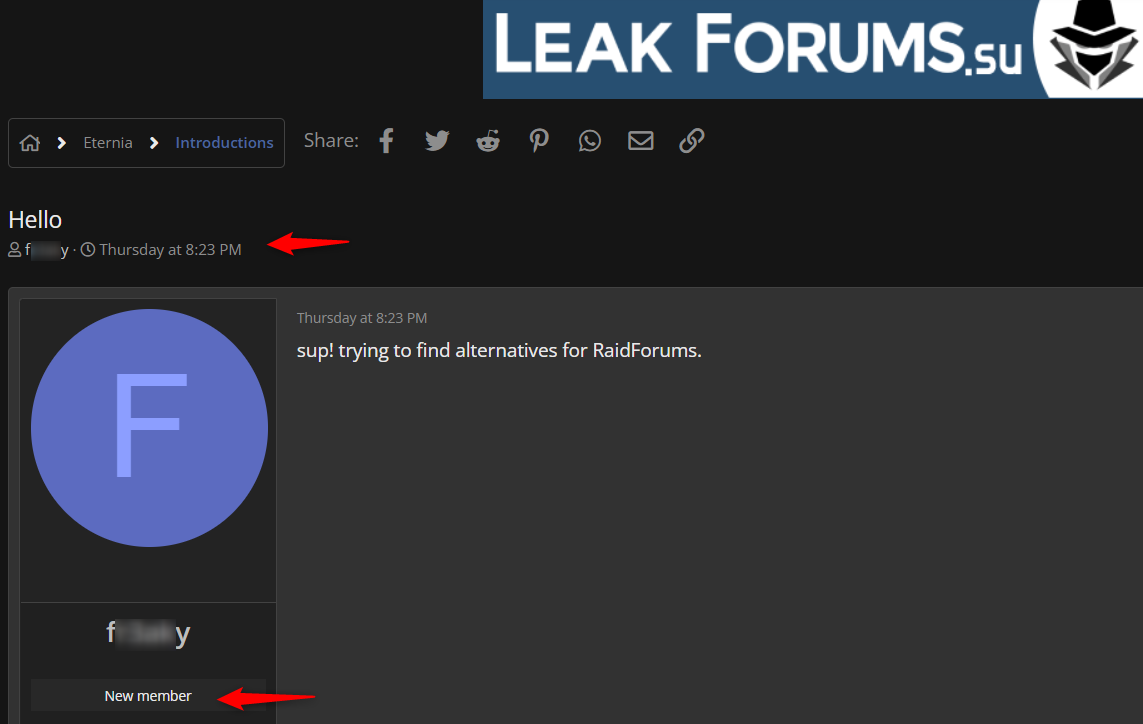 We can conclude by saying that so far there is no leading forum or group that has officially replaced Raidforums.