Dark Web News
Popular ToRReZ Market is Officially Retiring
ToRReZ Market, a widely known dark web marketplace that launched in September 2020 as a "community-driven market," recently announced their retirement. The news came out after other known marketplaces, the White House Market and Cannazon, revealed they were closing in recent months.
According to the official announcement (read below), all transactions and disputes have been resolved by the owners before they shut down.
Mr_blonde, the ToRReZ administrator, made their first announcement on ToRRez in mid-December: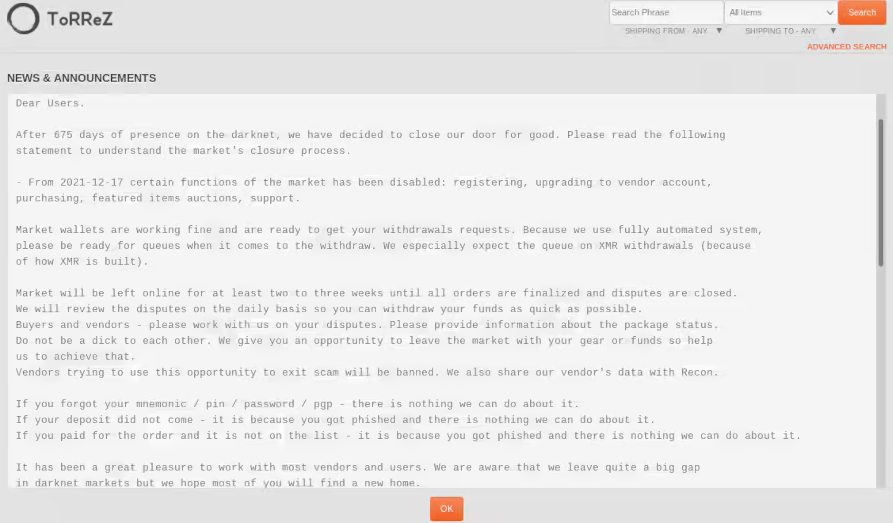 Later, in late December, he posted the following message on Dread:

In his first message, Mr_blonde warned against using established marketplaces, saying that markets grow closer to collapse as they age: "I would personally avoid any "established" market as older they get, bigger chance of collapsing is. Please give a chance to the smaller markets, which are not that loud as others. This is exactly how we became no 1 – being quiet and doing our job, serving customers 24/7 for 675 f***ing days."
Traditionally, retiring markets have advised users to migrate to certain "friendly" markets or equally well-established markets. In the past, "Mr. White", the administrator of White House Market, encouraged users to move to Monopoly Market or Versus Market when they announced they were shutting down.
In the last couple of paragraphs of Mr_blonde's message, he hints at the possibility of making a return in the future: "While ToRReZ will be gone for good, we might (or not) come back at some stage with something different. The whole world goes green. Maybe we will join the trend at some stage ;] When we decide to be back, we will definitely sign the message with one of the known keys so watch out for any copycats. If you have anything to say to me, you can use Dread's system but I give no warranty that any of your messages will be read, not to mention that they will not get answered."
Although the site is down, Webz.io keeps history of ToRRez's crawled posts, making it available in our systems.