Web Data 101
Every team in your business needs fast and accurate insights to make decisions that will help the company succeed. For this reason, companies across industries — from media intelligence to risk management — have turned to web data integration platforms for automated insights. These platforms require a lot of data, especially web data, to perform well. We've created this guide to explain what web data is, the use cases for it, and the web data options available today.
What is web data?
Web data is information sourced and structured from various sites across the Internet. Types of web data include:
Open web data – Publicly accessible data extracted from sources on the open web, such as news sites, blogs, message boards, forums, review sites, and Q&A pages.
Dark web data – Data obtained from websites within a hidden network, or "Dark Web," only accessible with a specially designed web browser like TOR. Dark web data includes posts that include leaked or stolen sensitive information, such as credit card numbers, social security numbers, and passwords.
Deep web data – Data found on sites that traditional search engines do not index and password-protected sources. These sites live on networks such as Telegram and IRC.
We often see confusion around the terms "dark web data" and "deep web data," so we've created an article to explain the differences between these two terms. You can use one or multiple types of web data to gain valuable insights for your business.
Web data use cases
You can use web data for a wide range of use cases, such as:
Whatever the use case, you first need to find an efficient and cost-effective way to obtain relevant web data.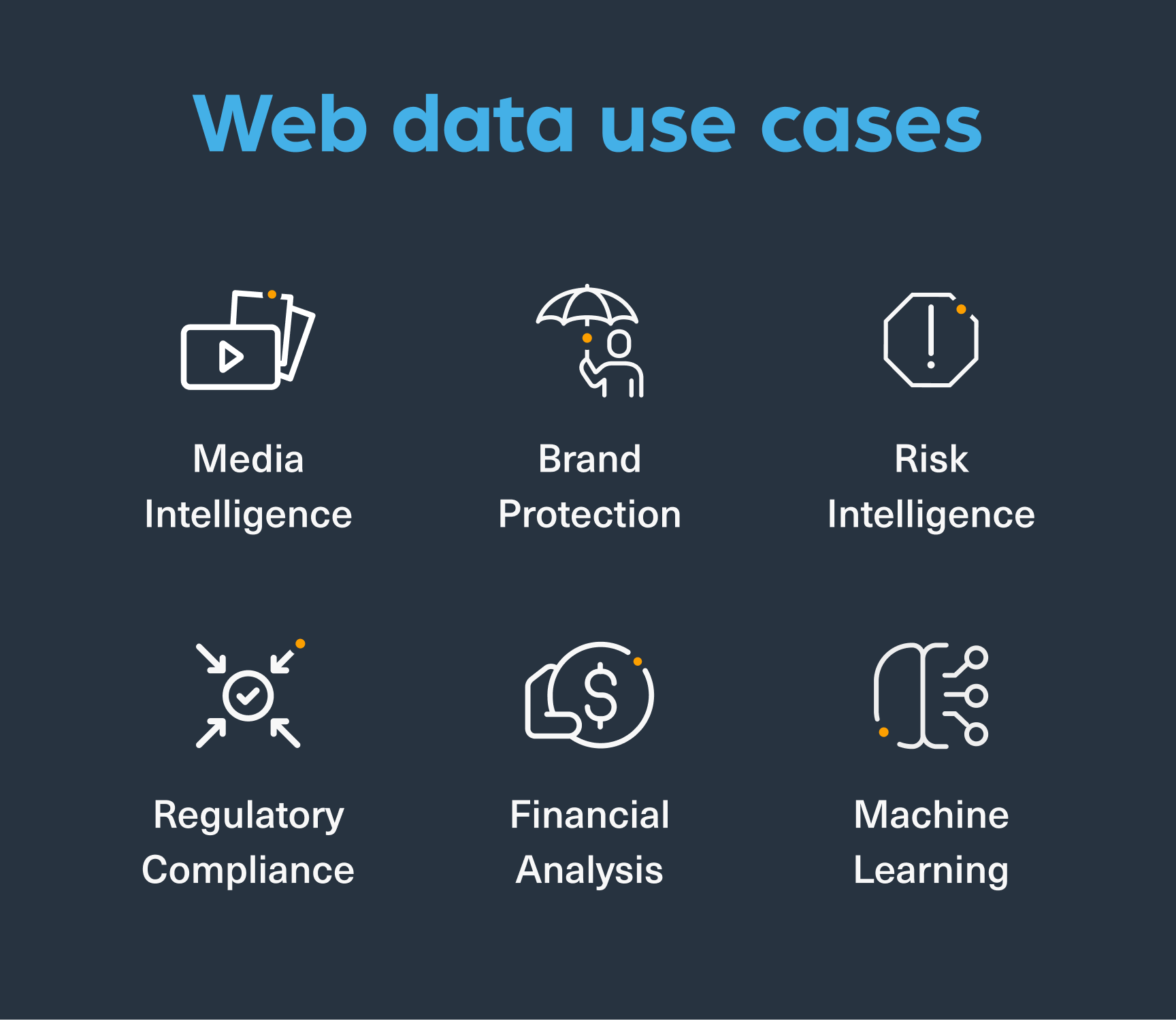 Key web data challenges
One of the most difficult challenges for businesses wanting to leverage web data is figuring out how to obtain it. Plus, many companies lack the skills and literacy necessary to use web data effectively. Gartner predicts that through 2025 most chief data officers will fail to promote the required data literacy among teams to achieve specific data-driven goals within the business.
When it comes to getting web data, you have two options — build a web crawling solution in-house or buy a big web data solution from a third party.
The key difference between building and buying a web data solution involves the total cost of ownership. It takes more time and costs to build and maintain a solution in-house than buy one that has already been developed, tested, and proven effective at scale. If you buy a solution, you don't have to incur the time and costs of development, maintenance, upgrades, computing power, and security. We discuss building vs. buying a solution in depth in this white paper.
Web data solutions
If you want to buy a web data solution, you have two types to choose from: ad-hoc web scraping or web data feeds via APIs. The solution that will work best for you depends on how much data and scalability you need. For example, a large enterprise would need to leverage massive volumes of web data from different sources. In general, ad-hoc web scraping solutions are designed for small-scale data projects. The ad-hoc solution provides web data based on a list of websites the customer has given the data provider.
On the other hand, a solution that uses high-speed web feeds with flows of different data types would work well for the enterprise. Web data feeds provided through APIs allow businesses to access ongoing scalable flows of web data from numerous websites. They enable companies to generate insights from web data at scale.
Ad-Hoc Web Scraping vs. Web Data Feeds (APIs)
| | | |
| --- | --- | --- |
| | Ad-Hoc Web Scraping | Web Data Feeds (APIs) |
| Product | Largely DIY – You create a list of preferred data sources | Out of the box — Data feeds already made |
| Types of Data | Data typically from databases that store files with information from different sources, such as websites, emails, and invoices | Feeds from the open, deep, and dark web |
| Data Formats | Content not unified | Unified content (e.g., unified dates, timestamps) |
| Delivery | Ad-hoc | Ongoing |
| Search Option | Custom fields | Predefined structure |
| Scalability | Small scale (not many sites) — data scraped based on a predefined list of specific databases, URLs, or reports | At scale — Unlimited feed of web data generated by queries (e.g., keywords, categories, locations) |
| Management | Typically requires developers to manage lists of crawled websites and maintain the scraping tools | Comes in the form of easy-to-use APIs, so developers don't have to maintain the solution |
| Machine Learning | Web scraped data often requires manual preparation and normalization for use in ML models | Provides high-quality, structured data, making it easier to automate data preparation and normalization |
Webz.io products
The Webz.io platform gathers data from sources across the open, dark, and deep web. We provide this data in the form of feeds which you can integrate into other platforms using our data feed APIs. Our web data feeds allow platforms to generate relevant insights at scale. Here are brief overviews of our API products:
Open web APIs
Dark and deep web APIs
Dark Web API — Use this data feed for brand protection, fraud detection, digital risk protection, web intelligence, and more. The feed crawls sites on the deep and dark web, extracting encrypted and password-protected content. It also tracks extremist social media posts and hacking posts.
Data Breach Detection API — This data feed is ideal for brand protection, fraud protection, and VIP protection. Discover leaked data passed around sites on the deep and dark web. The feed crawls sites indexed by attributes such as email, credit card, domain, BIN, and SSN.
The future of web data
Today, web data plays a vital role in decision-making and risk protection for many businesses. But what does the future look like for web data as a whole? In the future, we expect to see the following:
More annotated web data — More annotated data means that search engines and scraping/crawling solutions will better "understand" the meaning of the data, i.e., its structure for analysis.
The fusion of web data types — We expect more companies to leverage multiple data types. For example, a company might extract data from news, government, and dark web sites, as one contributes to the other. Analyzing multiple data types adds more dimensions to analysis and brings deeper insights.
More scraping prevention measures — We predict that more companies will implement measures to protect against illegal scraping. In the future, we expect that fewer reputable sites will be available for scraping, and some web data solutions will resort to evasive scraping techniques, like proxies.
How companies use web data will continue to evolve, and so will solutions for obtaining it.
Want to learn more about how to use web data effectively? Contact us today to talk with one of our data experts.