Web Intelligence
How to Monitor Emerging Threats to Brands on Alternative Social Media?
We recently co-hosted a webinar on monitoring emerging threats to brands and executives on alternative social media with iThreat, an online intelligence company that is using our Cyber data feeds to conduct internet monitoring and investigations.
We have covered alternative social media and the need to monitor them on previous Dark Web Pulse posts but with the growing interest in the threats companies and VIPs face on these platforms, we decided to discuss this topic in greater depth.
Here are some key highlights from the webinar, and one example, a taste of the study cases we covered – on Elon Musk and Nike. But if you're too curious and want to find out everything, you can watch it in full here.
To start discussing how to monitor threats to executives and organizations, we first need to understand what exactly alternative social media is.
Alternative social media Vs. Mainstream social media platforms
Alternative social media platforms is a general term used for a number of platforms that were established in recent years in reaction to restrictions introduced by mainstream social networks like Twitter, YouTube, and many others.
The main difference between these alternative social media platforms and mainstream platforms is the terms and services they have which largely affects the type of content they host.
Unlike the guides of mainstream platforms, the rules of alternative social media sites allow its users to express themselves freely, with no or very little restriction. Many of them would pride themselves as "free speech" platforms. But we can also see violent hate speech, which other mainstream media sites banned in their terms and services.
In our webinar, we took a moment to look at the timeline and the different milestones in the rise in popularity of alternative social media sites.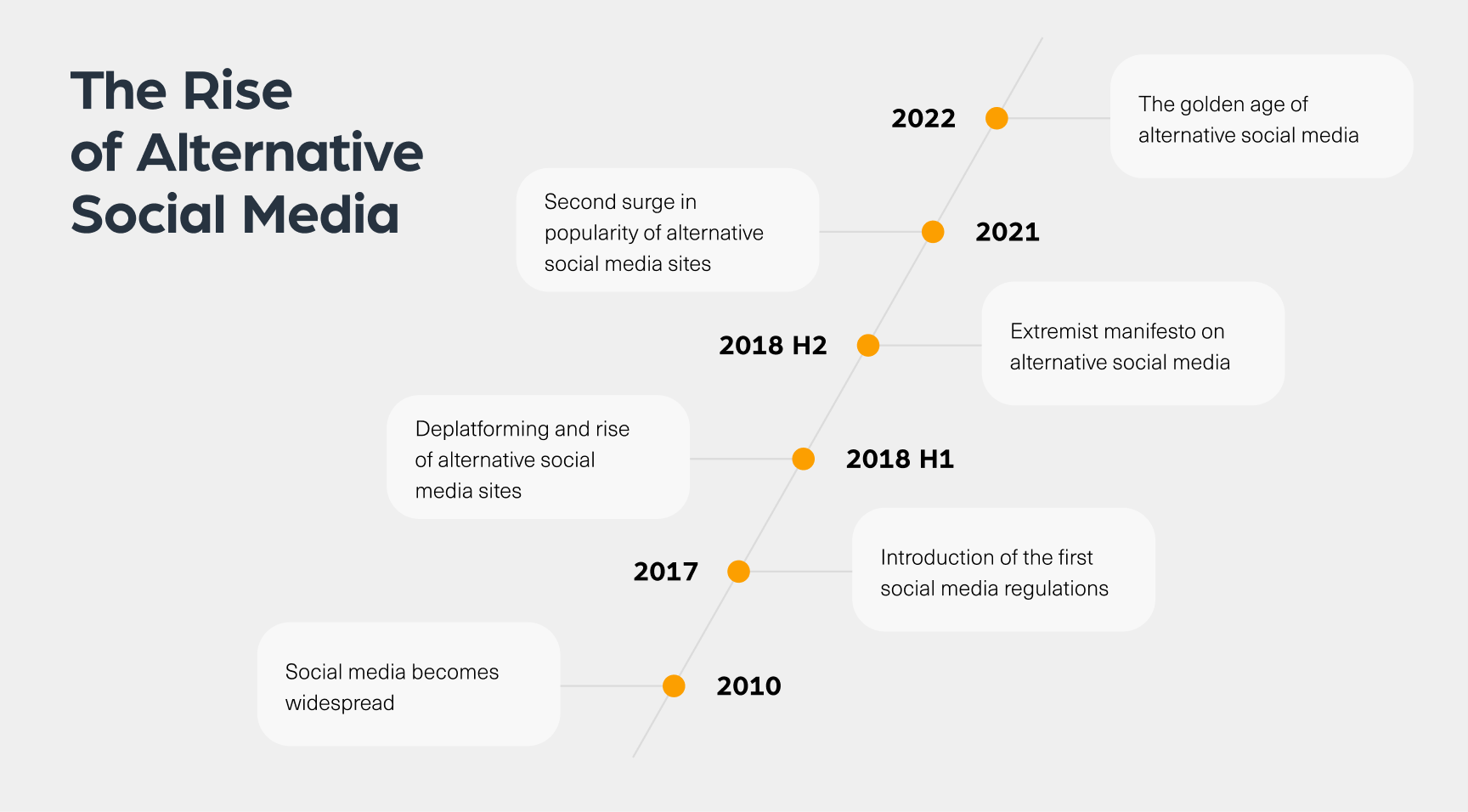 For the full overview, watch our webinar.
What type of illicit content can be found on alternative social media?
After reviewing the timeline and the difference between alternative social media sites and mainstream social platforms, it's time to find out what type of illicit content we can find on these platforms.
The data we find fall under 4 different topics:
Extremism
We were able to trace the activity of terrorist groups on alternative social media. These groups usually have their own closed groups, where they share their agenda and incite others to action. They also regularly share links to additional platforms they are active on, such as links to closed groups on chatting applications.
Alongside official terrorist organizations like KKK, there are also other radical organizations. They are usually organized groups or movements that consist of people with the same extreme beliefs and causes that get together online and gather into groups and communities, sometimes following a radical trend. Some of them are big and longstanding groups, such as the alt-right movement. Others are small.
Another trend we often see is the resurrection of old extreme groups, such as the British NS Movement and the White Protection League. Today, these groups have many and a growing number of users on alternative social media.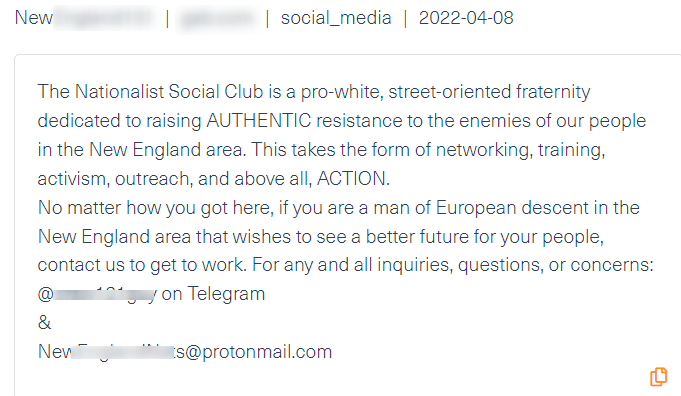 We can also see a lot of radical content posted on the alternative social media platforms by radical individuals who sometimes start trends that incite others. For example, people who share racists beliefs who aren't necessarily members of an organization. They will find common spaces to share their violent and racist discussions on these platforms. All of these discussions include online hate speech that can eventually be translated into hate crimes in the physical world.
Disinformation
As the content restriction barely exists on alternative social media, we can find a lot of fake news and misinformation spreading quickly, as they are shared on a daily basis. This many times can also lead to unfounded conspiracy theories.
We have seen groups with hundreds of thousands of people share and perpetuate unfounded, wild theories that can be translated into radical actions in the physical world.
Inciting content against high-profile figures
A lot of defamatory and inciting content is shared against organizations and high profile figures. Some users even create spaces that are dedicated to communities who target a specific person. These spaces can present serious threats to the safety of these figures, ones that are critical to monitor. We see a lot of online threats of users on alternative social media sites who express their wishes and intent to take someone's life.
Another form of a threat to an executive is Doxxing. Doxxing is a form of cyberbullying that uses sensitive or secret information, statements, or records for the harassment, exposure, financial harm, or other exploitation of targeted individuals. These are usually common on alternative social media, where people gather together and target a specific entity they resent.
Inflammatory content against organizations
We can also find online threats to organizations like companies and governments. Those are a bit different from the treats we see against executives. Many times they come in a form of radical anti-campaign, that consist of defamatory and inciting content against the organization. The threats an organization can have just from this online activity can start with PR damage and financial losses and end with harm to physical assets.
How monitoring alternative social media can help protect organizations and executives?
To help our customers keep up and monitor these types of dangerous content, we track specific pages, groups and trends.
Many of our customers use our data feeds to protect organizations, brands and executives.
Here is how monitoring illicit content on alternative social media helps them:
Brand protection – Monitoring this type of content helps eliminating blind spots and enables them to map the threats organizations and executives are facing
Critical threat alerts – Tracking alternative social media helps staying on top of violent and inciting posts that are crucial for the protection of companies and executives
Profiling of radical groups and threat actors – Monitoring illicit discussions helps complete the full picture of threat actors and movements that can pose a risk
Study case: Threats against Elon Musk on alternative social media
In our webinar, we provided two study cases, in depth, that showcase the threats against Elon Musk and Nike on alternative social media. Let us briefly discuss one example from the study case on Elon Musk.
In a thorough research I conducted, I was able to find a few indications of serious threats to the life of Elon Musk. In the image below, you can see a post from an alternative social media platform that clearly shows an intent to take the life of Elon Musk:

We provided more examples of serious threats against Elon Musk and Nike at our webinar. To learn more about them and how monitoring alternative social media can help protect organizations and executives, click here to watch the webinar now.