Webz.io's Top 4 Predictions in Cyber for 2019
What Can We Expect on the Dark Web in 2019?
From the data breach of major consumer brands like British Airways to huge social media sites like Quora and Facebook, 2018 showed us that it's not a question of if, but when an organization will suffer a security breach. What's more, the cost of data breaches to organizations is steadily climbing each year.  The average global cost of a data breach in 2018 rose to $3.86 million, an increase of 6.5% from 2017. It is estimated that this number will only continue to rise as more and more businesses become connected to IoT.
Taking into account all the cyber attacks of 2018 and considering all the impending attacks to come in 2019, we took a look at Webz.io's cyber repository to get a glimpse of what to expect in the cyber crime world as we sweep into the New Year.
Based on our findings, here are our top 4 predictions for 2019:
1) Cybercriminals Will Continue to Migrate from the Dark Web to Chat Platforms
In addition to rising costs and increased numbers of security breaches, 2018 saw a number of trends, including the migration of cybercriminals from the Dark Web to more closed encryption-enabled chat platforms such as Telegram and Discord – a trend we will continue to see in 2019. This is largely due to the success of law enforcement officials in tracking Dark Web cybercriminals, which led to the shutdown of larger cybercriminal marketplaces on the Dark Web such as Silk Road, AlphaBay, Hansa and RAMP. As a result, 2018 saw cybercriminals demonstrate extreme caution and increased concern with privacy and security in their planning and execution of attacks. We will see this migration to chat platforms increase throughout 2019.
(We had this trend in mind when we launched our Dark Web API early this year, which added 6 new networks to search of the Dark Web, including I2P, ZeroNet, OpenBazaar, IRC, and chat networks Telegram and Discord).
 2) An Increase in Personally Identifiable Information (PII) Leaks and Fraud
Up till now, we've seen data leaks of consumer information, but they're usually sporadic. In 2019 we'll see data breaches that include dumps of sensitive documents and data credentials on a daily basis. This significant increase in the numbers of stolen credit cards, social security numbers and even credentials to financial accounts will pave the way towards greater incidents of financial fraud.
Take the Marriott data breach, for example. Hackers were able to access far more consumer data than just emails and date of birth; it succeeded in accessing passport information, travel locations, arrival and departure dates and even encrypted payment card information.
The actor by the name of leaguemode below advertised 1 million records from the Marriott's leaked database in Core Market: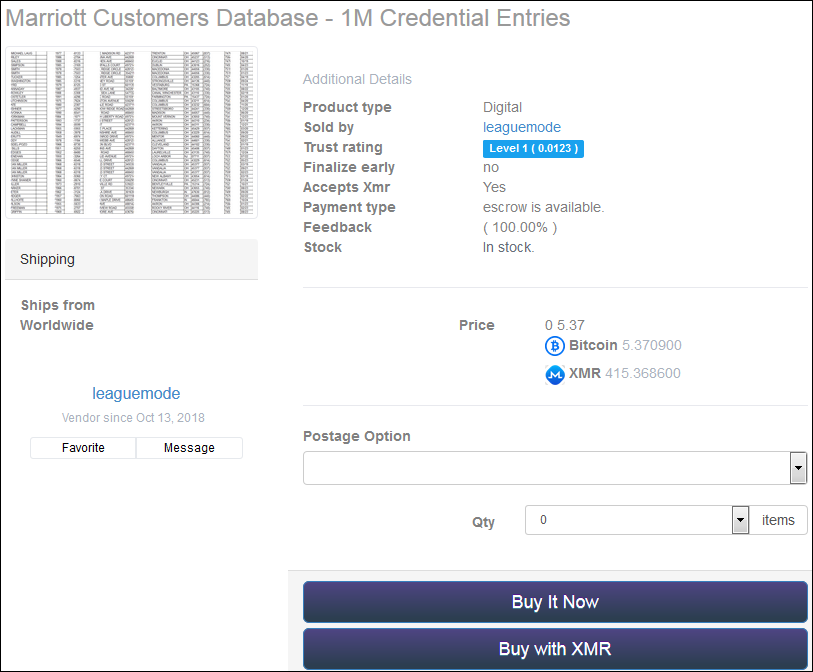 3) A Rise in the Use of Botnets and Infra Attacks  
As attacks on IoT grow and become more sophisticated, we will see emerging threats of attack on entire infrastructures. Our web data feeds have seen increasing numbers of posts related to the sale and purchase of tools that can carry out these types of attacks. Specifically, we have noticed more posts related to the sale or rent of botnets designed to carry out DDoS and malicious cryptomining attacks. Most of these services are advertised as cloud services that can be leased per hour or day.
Here is an example of an advertisement for a DDOS service posted on crimenetwork.co that prices its service according to different timeframes (per day, week or month).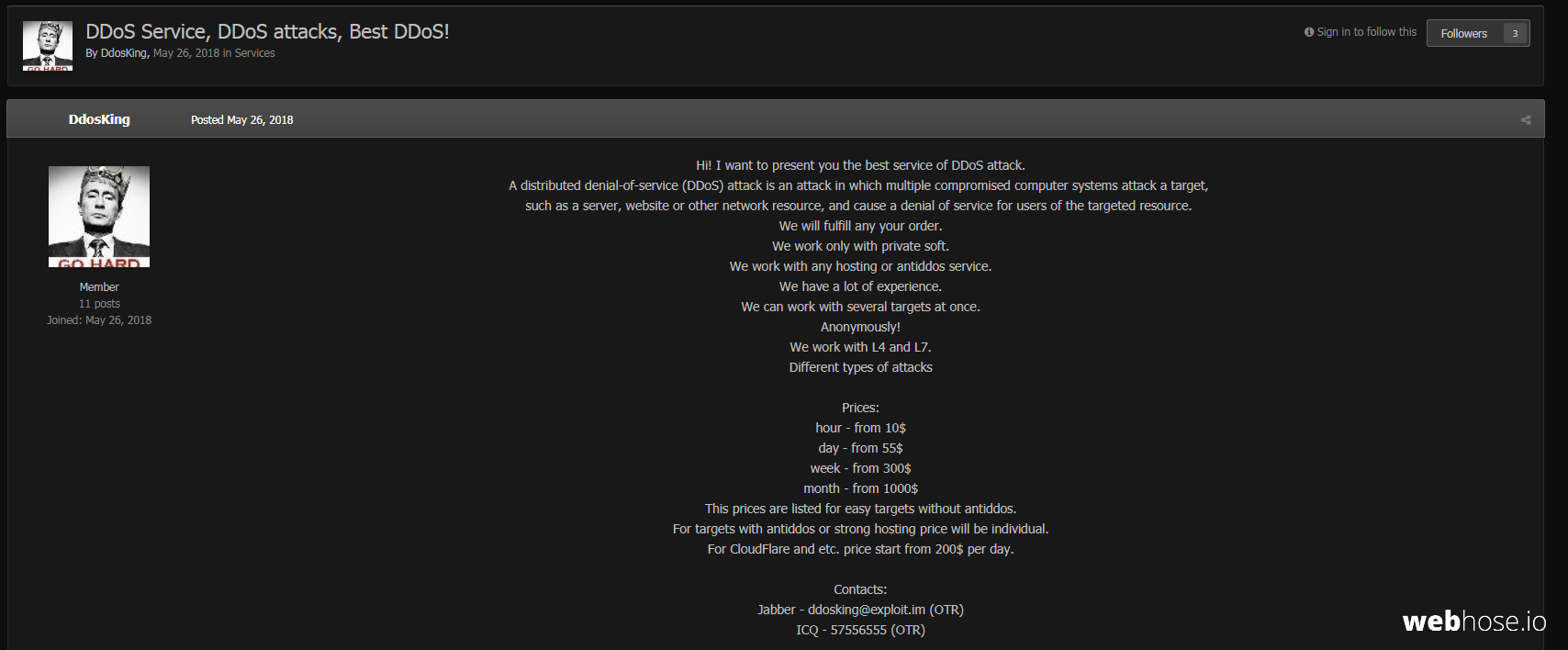 In addition, we've seen increasing mentions of sales and purchase of IoT malware, supervisory control and data acquisition (SCADA) and controllers. Attacks on infrastructure can bring down entire systems, wreaking havoc on entire countries, and are extremely important to catch while in planning stages. Organizations will need to constantly monitor smaller threats before they become large-scale catastrophes like the ones mentioned above.
4) Data Breaches Will Threaten Every Industry
In comparing Webz.io data between the last quarters of 2018 with previous quarters, we saw clear signs of growth in the numbers of data breaches and leakages, aided by bot-based tools and services. With the help of these technologies, cybercriminals can now expand their reach to new frontiers, such as the healthcare industry and smaller organizations that were not their previous focus. These targets also happen to be less inclined to have the level of cyber protection as do their hi-tech counterparts, such as financial and e-commerce.
As 2019 approaches, organizations in all industries will want to double their cyber security efforts to guard against these types of attacks. They will turn towards scalable solutions such as web data feeds that offer superior cyber security coverage to organizations across all industries  to do so. In meeting these needs for the next year, Webz.io is planning to launch a new service that aggregates and will automatically discover, collect and convert all the Personal Identifiable Information (PII) leaks and database dumps into a verifiable structured repository.
Want to learn more about how your organization can find the data you need to detect, investigate and act on malicious activity? Learn more about Webz.io's Dark Web API offers superior cyber security coverage to organizations across all industries to help them keep their brands, companies, and private citizens safe.