A Look Back at 2019: A Review of Webz.io's Cyber Predictions from Last Year
As we start the year 2020, we approach the new year with cautious optimism. Cyber threats are now mainstream and present in almost every industry. With IoT devices and wearable technology present across the board from retail to automotive and healthcare industries, the risk of both virtual and physical damage is greater than ever before. This makes it even more critical to stay on top of the latest trends in cybersecurity.
Last year we published Webz.io's Top 4 Predictions in Cyber for 2019. So we thought we'd take a quick look and see how these predictions were backed up both in the mainstream media and with numbers and data from our dark web feeds.
1) Cybercriminals Will Continue to Migrate from the Dark Web to Chat Platforms
In addition to rising costs and increased numbers of security breaches, 2018 saw a number of trends, including the migration of cybercriminals from the Dark Web to more closed encryption-enabled chat platforms such as Telegram and Discord – a trend we will continue to see in 2019.
This prediction definitely turned out to be true.
In 2019 there were over 2.5 billion mobile messaging app users, a 12.1% increase over 2018. This number is expected to continue to grow until 2023 and then taper off. In a digital world where messaging apps have become the main tool for B2C daily communication and payment—as in the case with WeChat Pay, a Chinese social media and mobile payment app—so has its use for malicious intent by cybercriminals. This is particularly true of Telegram and Discord apps.
Webz.io saw this firsthand in our Dark Web API, which detected an increase in the amount of illicit content in messaging apps. This was based on identifying an increased number of reference links to messaging apps from the dark and deep web as well as the discovery of actual illicit content in different messaging apps. In response to this trend, Webz.io worked hard in 2019 to expand both our portfolio offering and coverage of the different messaging applications.
2) An Increase in Personally Identifiable Information (PII) Leaks and Fraud
In 2019 we'll see data breaches that include dumps of sensitive documents and data credentials on a daily basis. This significant increase in the numbers of stolen credit cards, social security numbers and even credentials to financial accounts will pave the way towards greater incidents of financial fraud.
Again, we find that the number of reported data breaches — and specifically PII data — increased in 2019. Over 4 billion records were reportedly breached across different sectors ranging from financial to education and entertainment. This number ended up being a 54% increase in the first six months of 2019 alone in comparison to the first six months of 2018.
This was certainly corroborated by our own data analysis. Data from Webz.io's Data Breach Detection Service and Dark Web API found over 500K mentions of data breaches in 2018, whereas in 2019 there were a few million breaches mentioned – an increase of 300%.
3) Data Breaches Will Threaten Every Industry
As 2019 approaches, organizations in all industries will want to double their cyber security efforts to guard against these types of attacks. They will turn towards scalable solutions such as web data feeds that offer superior cyber security coverage to organizations across all industries to do so. In meeting these needs for the next year, Webz.io is planning to launch a new service that aggregates and will automatically discover, collect and convert all the Personal Identifiable Information (PII) leaks and database dumps into a verifiable structured repository.
One limited to the finance and insurance sectors, data breaches have now expanded to almost every vertical, including governmental, education, retail, and healthcare sectors. Data breaches in the healthcare industry are among the most expensive type of breach, with costs of up to $6.45 million.
Let's take a look at a few of the top data breaches in 2019: Fortnite, an online gaming platform, which exposed the accounts of over 200 million users; Facebook, one of the largest and most popular social media platforms, which exposed over 540 million records; and The Oklahoma Department of Securities, with millions of files of over a decade exposed to the public.
Webz.io has seen this firsthand as the cyber solution companies that approached us in 2018 were more limited in scope; in 2019 the companies approaching us now served a variety of industries from financial and digital risk to online retail and more.
4) A Rise in the Use of Botnets and Infra Attacks
As attacks on IoT grow and become more sophisticated, we will see emerging threats of attack on entire infrastructures. Our web data feeds have seen increasing numbers of posts related to the sale and purchase of tools that can carry out these types of attacks. Specifically, we have noticed more posts related to the sale or rent of botnets designed to carry out DDoS and malicious cryptomining attacks. Most of these services are advertised as cloud services that can be leased per hour or day.
Norton has called DDoS attacks "one of the most powerful weapons on the internet," The number of DDoS attacks increased by 84% in the first quarter of 2019 after slowing down in 2018.
This trend was reflected in Webz.io's dark web feeds, which showed only 1.6 million mentions of infra and botnet attacks in 2018, but 2.3 million mentions of a similar query in 2019 — an increase of 43%!
Using various queries that include different types of malicious cybercriminal activity related to DDoS attacks as well as words suggesting the buying and selling of such technology, we found a rise in the selling and buying of this type of service as early as January 2019.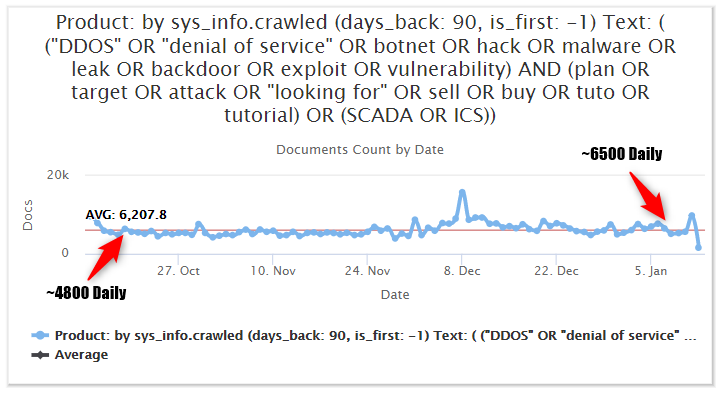 In 2020, data breaches are ever more pervasive, having spread to all types of verticals and causing more damage in both brand's resources and reputation. The average cost of a data breach now total almost $4 million for a company, according to IBM, and global spending on cybersecurity is now projected to exceed $6 trillion by the beginning of 2021.
As the year 2020 unfolds, Webz.io serves as a light at the end of the tunnel of more ominous and threatening data breaches. By keeping a close lookout on the latest dark web and security threats and developing top-notch services, it can be counted on to defend organizations across verticals against data breaches and other malicious cyber threats. In 2020, data breaches are ever more pervasive, having spread to all types of verticals and causing more damage in both brand's resources and reputation. The average cost of a data breach now total almost $4 million for a company, according to IBM, and global spending on cybersecurity is now projected to exceed $6 trillion by the beginning of 2021.
Want to learn more about how your organization can find the data you need to detect, investigate and act on malicious activity? Learn more about Webz.io's Data Breach Detection Service and how you can stay afloat of the most recent data breaches in your industry.