Gov Data API: The Solution to AML and Risk Monitoring Challenges
It's no secret that companies struggle to stay on top of frequently changing regulatory requirements. There's an abundance of sources in various languages, formats, and structures to consider. However, companies that fail to comply can face heavy fines and penalties.
Take the case of Santander in December last year, for example. The UK online bank was fined £108 Mil for AML failings. This was the highest fine imposed in 2022. On average, a single non-compliance event costs a company $5.87 Million in revenue.
That's a considerable sum and that's why they come to you, the RegTech, RiskTech, and consultants for help. They expect you to efficiently track and analyze KYC and AML data, GDPR and API compliance, and more.
Keeping regulatory risks in check with Webz.io Gov Data API
Considering what's at stake, the responsibility for monitoring compliance risk is a heavy burden on your shoulder. You need to know which regulations, policies, and laws apply to every area of your client's business – finance, privacy, production, logistics, and more. It's a large-scale task that involves staying on top of frequent updates and changes in different geographical areas and jurisdictions at all times.
In addition, trustworthy information is hard to obtain. Regulatory data, official records, and data required for AML/KYC/B screening are stacked away on sub-pages of unwieldy government sites, often as attached files.
The relevant sources include:
Government sites
Legal databases
AML/KYC/B solutions
Corporate filings
Government filings
Sanction lists
Watchlists
PEP lists
Laws
Property records
Courts records
Criminal records
Standardisation Organizations
International regulatory agencies
And more
You can't just use a regular scraping tool to find reliable data. To receive a feed of officially binding information, you need to limit the crawl to trusted sites.
Stay ahead of regulations with Gov Data API
Webz.io Gov Data API crawls the relevant sources globally. It maps, collects, and structures information in a machine-readable way. This means your system can easily digest the mass data and provide actionable insights to your customers.
Using a single API, you receive a customizable feed of the most recent data to help you monitor regulatory change and provide actionable insights. Quickly find AML data, KYC data, and recent policy updates, or legal revisions. You get all that mass data, structured and ready to be filtered according to your query.
What you get with the Gov Data API – Example
For example, a client in the US is interested in expanding business to the nordic countries and considers using Danske Bank's services for local activities. To help them assess the bank's credibility, you would run a query on the Gov Data API and extract a feed of valuable data from trusted sources.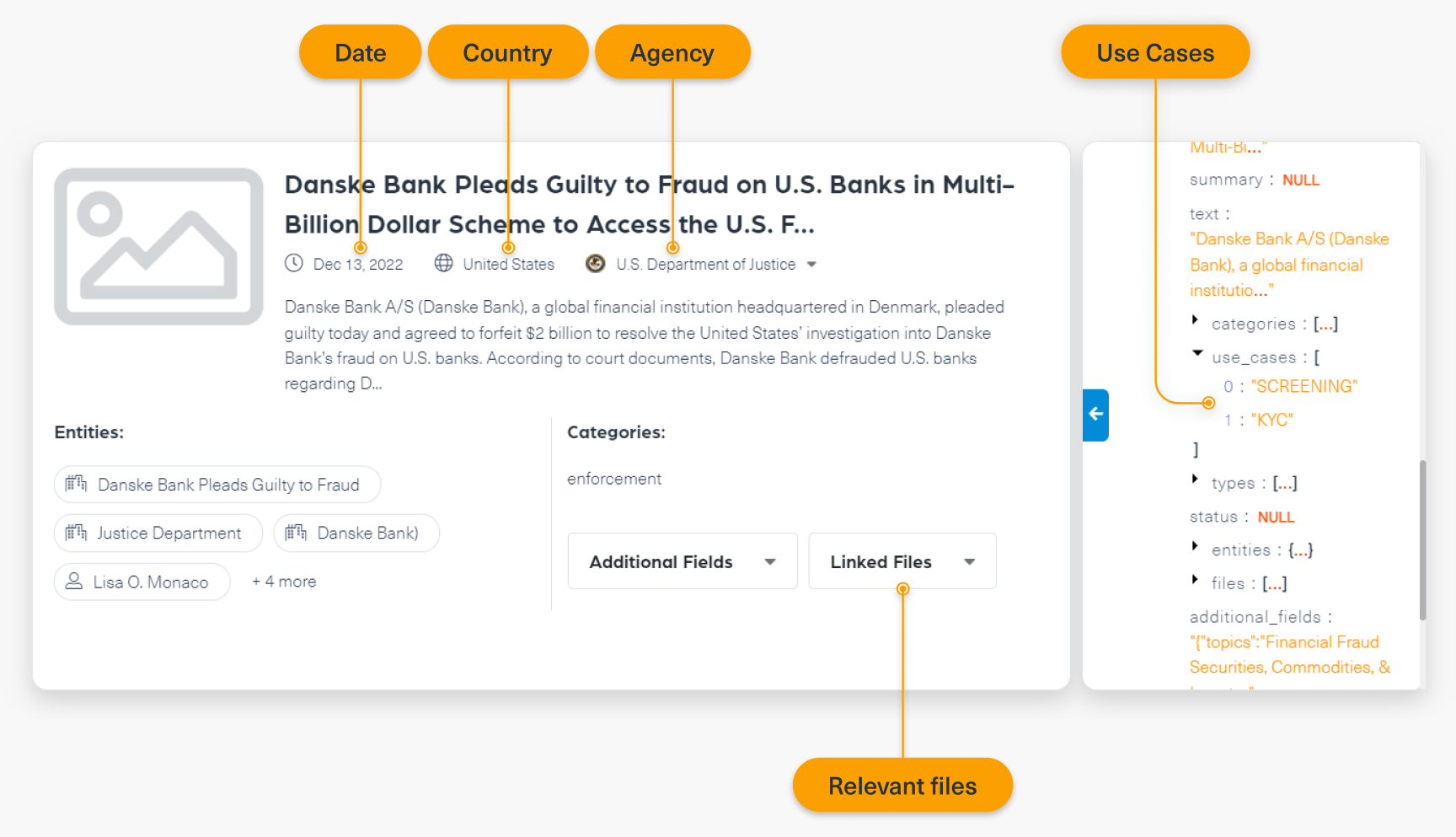 You can see the first result in the feed exposes a recent case of fraud by the bank. The feed provides the exact date, the source document, for which use cases the information is relevant, and more. Each following record in the feed contains the same level of data granularity.
What you receive in the feed is determined by your query and the additional filters you apply. These enable you to focus on and extract results according to category or attribute. You can choose data that goes any time back. For use cases you want to monitor over time, you can repeat the query regularly and automatically get the feed delivered.
Powerful features to focus on what matters
Webz.io Gov Data API offers a number of powerful features and filters. Here's a glimpse at the most important ones and how to use them.
Live and historical data
Gov Data API provides current live data and also accesses historical data so you can research official records, such as court, property, or criminal. Keep monitoring risks by screening companies and customers against filings, watchlists, and PEP data.
Smart filtering
The tool offers a variety of filters to reduce the information noise and condense the feed to what matters to your client. You can, for example, select the geographical region, the document category, or the jurisdiction. The set of smart filtering options lets you dive deep into granular data analysis. Never miss an important detail that could damage your client's business.
Use case tagging
This is another useful feature to ensure you don't overlook any critical regulatory data points. Discover relevant information you may not even know exists by refining the query results according to the purpose or the use case. This function allows you to select AML data, KYC data, sanctions, or any other type of regulatory data. The feed will contain the records related to the defined use case and reduce unnecessary bulk.
Linked files
The results in the Gov Data feed contain data from web pages and all relevant attached files, including PDF, Excel, XML, and other formats. This enables you to see the complete picture. You get the sources, summary, authentic document, and any changes or amendments, including publishing and revision dates. 
Entity-level records
In many cases, you need to monitor a specific organization, company, or individual. The function lets you pinpoint the feed results to data about a single entity. Your feed will show all the specified sources and documents where this entity is mentioned, including aliases, acronyms, and name variants.
Build lasting trust and compliance for your clients
Using Webz.io Gov Data API features, you receive a level of data granularity that lets you carry out precise monitoring and audits. The ability to focus on defined data points lets you cut regulatory tracking time and, in turn, costs. Help your clients stay out of non-compliance trouble, build their trust in you and reinforce your reputation.
Talk to one of our data experts to learn how Gov Data API can help you improve your regulatory tracking workflow to better serve your clients.