Data Breach Threats
Why Dark Web Monitoring is Crucial for Every Business
Cybercriminal activity is only growing. A recent report claims that the global annual cost of cybercrime is predicted to reach $8 trillion by the end of 2023. This massive number is not only an indication that the number of cyber attacks is extending but also their sophistication. 
Already over the past few years, the number of cyber attacks (especially ransomware attacks), compromised assets, and traded illicit listings has significantly increased. In this post, we'll discuss the trends, threats, and reasons why dark web monitoring is key to protecting every business.
Cybercrime trends on the deep and dark web in 2022-2023
In the first quarter of 2023, there were an estimated 1.2 million dark web transactions related to cybercrime, with an estimated worth of $10 billion. One of the emerging trends of the past year is the use of trading platforms.
By using Webz.io's dark web data, we have identified dozens of new marketplaces and datastores, which are mainly used for the trade of illicit goods and services, and Personal Identifiable Information (PII) that pose a real threat to corporations and individuals.
Another prominent trend that we have recently identified is the use of ransomware. Only in the first quarter of 2023, 850 new ransomware groups were observed in the dark web, based on ReliaQuest, an established cyber security agency. 
Based on Webz.io cyber data, the number of ransomware data leak sites increased by 37%. In the chart below, you can see the volume of discussions relating to ransomware on the deep and dark web from March 2022 to April 2023: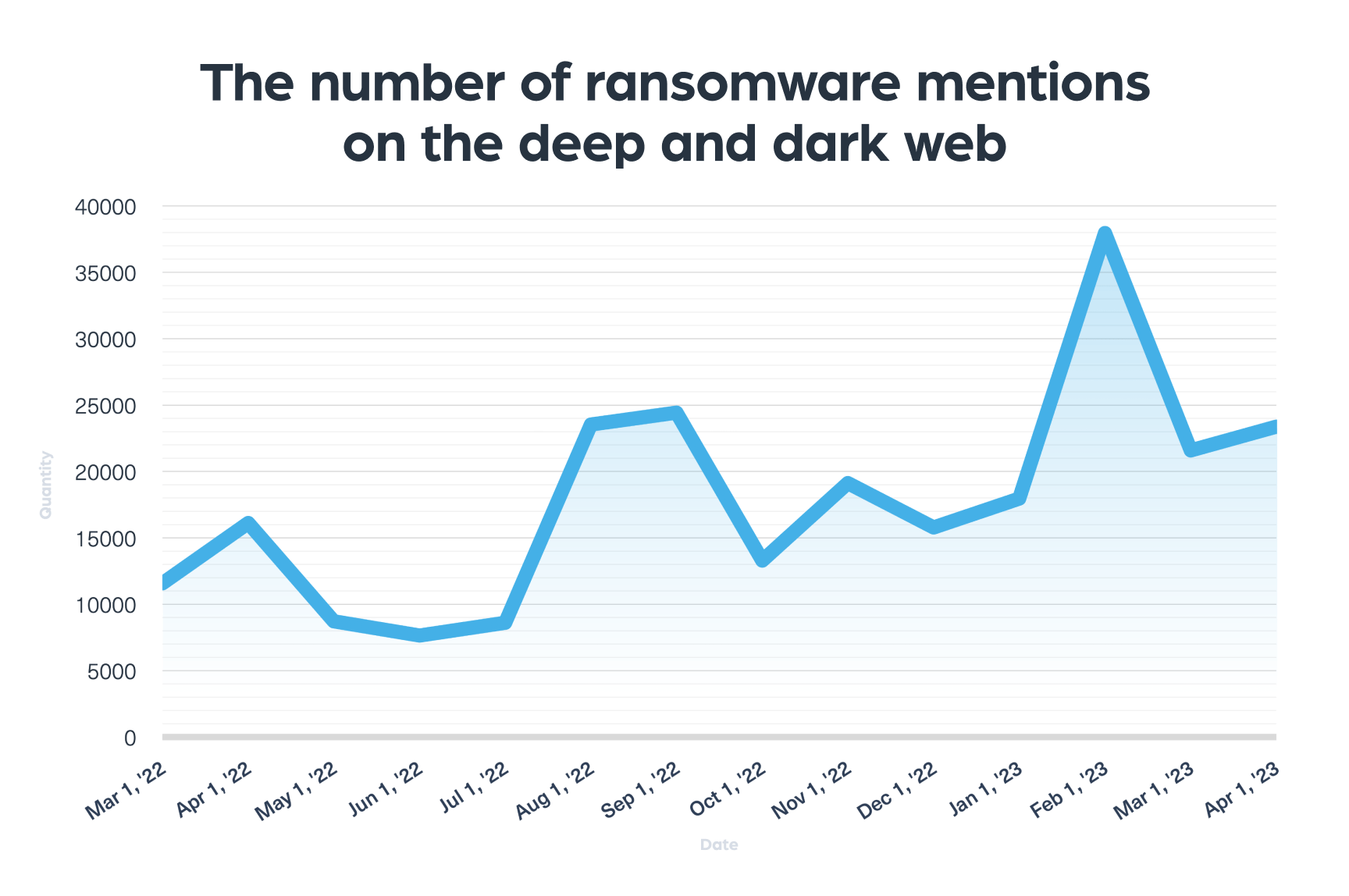 What can be found on the dark web?
Among the illicit activities that can be found on the dark web we can find:
Hacking techniques and services – These include ransomware kits, phishing kits, discussion on recent CVEs and how to exploit them (including mentions of specific organizations), attack tools, and powerful malicious cloud-based services such as Botnets, RaaS, and DDoS.
Compromised data– Compromised data refers to leaked databases, internal documents, leaked accounts, credit card details, and other sensitive information.
Drug trafficking- There are numerous types of drugs that are available for purchase on multiple dark marketplaces. Drug-related content can also be found on encrypted chats that facilitate communication between suppliers and consumers, and even on underground forums.
Terrorist activities – Alternative social media, dark web forums, and a variety of encrypted chat apps are regularly used for various illicit purposes, including fundraising for terrorist organizations, recruitment of younger members by using radical propaganda and planning and communicating their illicit activities.
Weapons sales – Dark web marketplaces host the trade of firearms, ammunition, and explosives, which are used to support organized criminal activities and terrorist groups.
How can dark web monitoring help organizations stay safe?
Monitoring the dark web is a complex and challenging task. It requires continuous collection of data from a variety of sources, including closed communities, chat apps, and marketplaces. These sources are often difficult to access, and unstable, and hacker communities try to block unwanted legitimate access.
But tracking deep and dark web sources remains top of the mind for any threat intelligence activity. Monitoring the dark web is essential for organizations that want to protect themselves from cyber threats. By monitoring the dark web, organizations can identify and respond to threats before they materialize. This can help to prevent data breaches, financial losses, and other negative consequences.
Some of the main advantages are:
Gaining insights into hacking communities – By gaining access to these communities, organizations can identify emerging threats, track the activities of threat actors, and develop strategies to protect themselves.
Threat intelligence – Organizations can detect early threat signs and gain valuable intelligence about new cybercriminal tactics, and automated attack tools to test new weaknesses. They can also identify real-time threats around compromised assets, and turn them into actionable insights.
Understanding the adversaries – Every threat actor has a motive, history, and usually a few closed communities. Uncovering them can help organizations to profile threat actors, and their methods and enhance their security measures accordingly.
How to best monitor the dark web?
Working with some of the leading companies in the world, our team of analysts has gained a deep understanding of dark web criminal activity, business needs and limitations, and the growing need and urgency to monitor the dark web better.
To easily and effectively conduct threat intelligence, every organization, and cyber analyst requires a tool that is based on the next four pillars:
Ease of use – an initiative system that is simple to operate even for non-technical users.
Effective – a powerful tool that can help organizations identify and respond to threats quickly and continuously
Smart – an AI-powered tool to analyze the world's largest deep and dark web data to identify threats faster and on time
Scalable – a customizable tool that can be scaled to meet the needs of any organization, regardless of size or complexity.
In 2023, dark web monitoring plays a bigger role than ever to make every business organization more cyber-smart. Next month we'll unveil our contribution to making dark web monitoring faster and more simple than ever before.