News API: Because Data is Key to Robust Sales Intelligence
Across geographies and industries, sales organizations and teams are turning to sales intelligence platforms to help their sales and marketing teams discover, analyze, and use data about their potential customers. Powered by AI and other advanced technology and driven by data, sales intelligence is empowering sales organizations to reach prospects at the right time, in the right place, and with the right message.
In this article we'll learn more about how sales intelligence is changing the culture of B2B sales, and how web data plays a pivotal role in making this happen.
What's a sales intelligence software?
Sales intelligence software helps sales teams predict which prospects are most likely to convert to customers. They can identify the specific value propositions that each prospect would probably respond to, and even help teams reach out directly to prospects at the specific point in time when they would be more ready to engage.
Yet beyond these nuts and bolts – sales intelligence solutions reflect a deeper trend in sales. It's a new approach to sales that aims to shift away from product-centric selling. Traditionally, sales programs have been largely product-driven – stressing the features and functionality of the product. Today, sophisticated sales teams realize that they're first and foremost selling to someone. A person. A decision maker. And without a deep understanding of the individuals to whom they're selling – as well what the products that they're selling to him or her – sales results suffer.
Sales intelligence enables what sales gurus refer to as buyer acumen – having a deep understanding of the buyer at all points of the sales cycle. This turns sales reps into subject matter experts – transforming them in the buyer's eyes from "just a sales rep" into a credible partner. And this empowers sales teams to conduct different types of sales conversation – one with a true market perspective. This means that instead of asking the buyer what keeps him or her up at night, sales reps can inform them of what should be keeping them up at night.
All this is enabled by sales intelligence platforms. Yet sales intelligence platforms are only as effective as the data they consume. This data is either internal – collected directly by sales teams and captured in CRM or sales management systems like Salesforce – or external. External sales intelligence data (collected by cutting-edge tools like our News API) supply critical and objective context to the data gathered by internal sources. This enables a sales intelligence platform to, for example, postulate prospect sentiment based on data gathered by SDR teams – then validate or contextualize this sentiment based on a wide range of online sources.
Why sales intelligence?
Nourished by the right internal data and fresh, updated external data, sales intelligence platforms offer:
Seamless customer identification – Sales intelligence platforms makes it easy to identify people who are likely to be interested in your product
More predictable prospecting – Sales intelligence software identifies trigger events, eliminating time wasted contacting prospects who aren't ready to buy, so teams focus only on those that are.
Understand customer intent – Sales intelligence tools mine online platforms and provide insights into the products or topics that most interest prospects.
Faster sales cycles – Sales intelligence solutions enable sales teams to reach more decision makers faster, at the best times to close a deal.
Keep an eye on the competition – Sales intelligence watches competitors closely, ensuring that messaging always remains spot on.
Less research time for sales teams – Sales intelligence platforms lower the research burden, allowing sales reps to focus on what they do best – selling.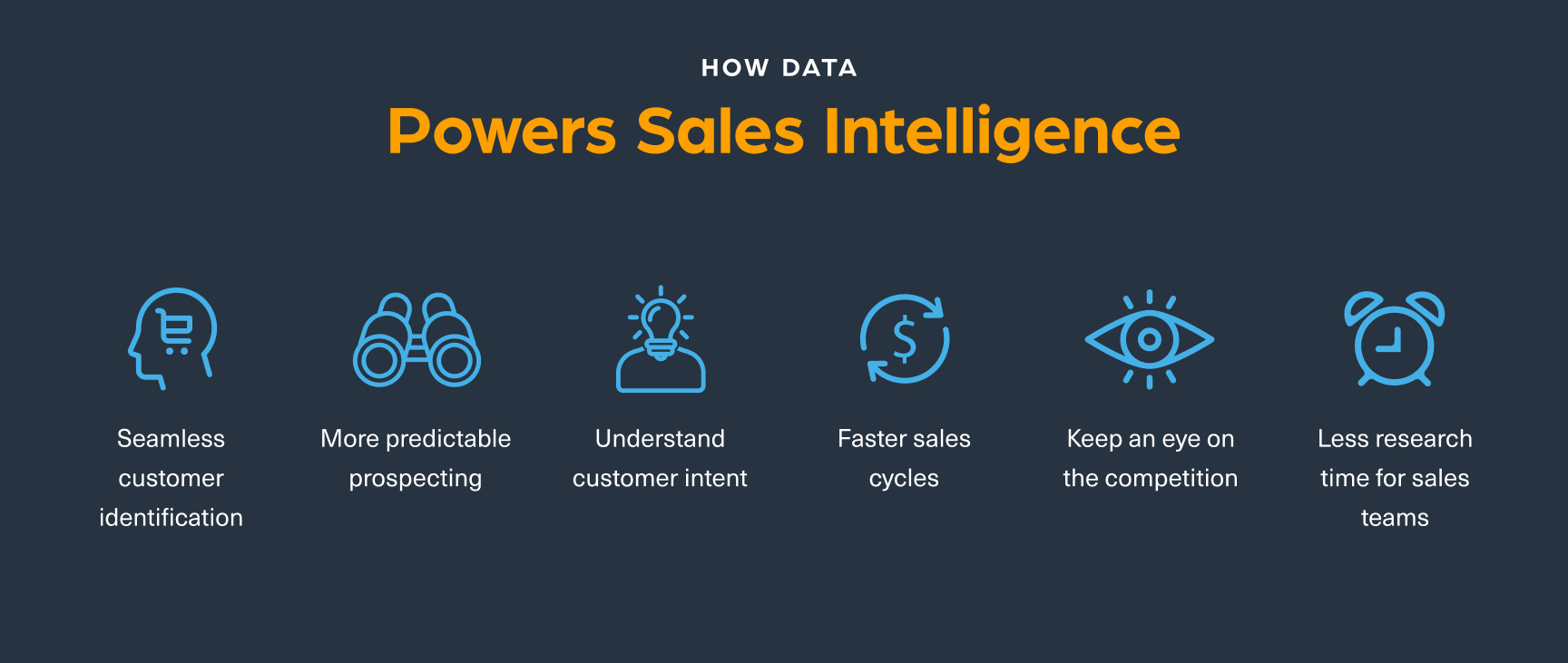 Data: A key sales intelligence challenge
Incomplete or inaccurate data is a real stumbling block for sales intelligence efforts. Even the most advanced sales intelligence solution falls flat without the right data to power it. Poor output from sales intelligence software can lower sales efficiency – undermining sales team efforts to close deals and resulting in missed opportunities.
The challenge is that new content is posted every minute. A sales intelligence solution needs to scan literally millions of sources from news sites, company sites, blogs, social media, podcasts, influencers, and more. In addition, it needs to include accurate readership, audience, sentiment, engagement, and other metadata. For this reason, it's crucial that the web data powering sales intelligence conforms to four key criteria:
Coverage – To ensure maximum depth of sales insights in a global market, sales intelligence solutions should include as many news sources as possible, from multiple countries, in multiple languages.
Latency – A sales intelligence data stream needs to be fresh – with up-to-date data that's noise-free and constantly gathered and updated by smart, adaptive web crawlers.
Quality – Sales intelligence is by definition subtle. It involves reading between the headlines. Only enriched, structured web data can deliver key insights and customer sentiments with full text, along with clean metadata that includes entities, source, categories, author name, publication date and more.
Historical – To capture a true sales perspective, sales intelligence data needs to go back at least a decade – including historical data from news, blogs, online forums and reviews from across the web.
The bottom line
To maximize sales insights, lower the burden on sales pros and hyper-focus sales efforts, it's best to leave the news data collection to the experts – and use a simple API to start scaling. Webz.io's News Data API constantly consumes news web data from millions of sources, in more than 170 languages from across the web. It uses NLP to distill the meaning and sentiment behind every article, story and image – in near real-time. This data is structured and enriched to make it quickly and easily readable by media intelligence platforms. The end result: better sales insights based on better data.
To see how Webz.io can turn your sales intelligence solution from 'good to have' into a game-changing sales powerhouse, talk to one of our experts today!