How News API Can Boost Financial Monitoring
As our world becomes increasingly digitized, the need for automated financial monitoring tools and solutions has never been greater. Today's businesses are looking for faster, easier, and more convenient ways to scale and manage their finances.
That's where automated monitoring solutions step in, to bridge the gap between the growing volume of financial information and the need to process it for actionable insights. But these solutions are only as good as the data that supports them. For this reason, financial monitoring tools need to rely on both traditional and alternative data for finance to get a well-rounded picture.
Since alternative data originates from sources outside a company, such as public records, content posted on the internet, and news items, it can be challenging for financial data aggregators to work with these unstructured sources and target the most relevant data. However, as we'll see in this article, there are certain tools such as APIs that work in conjunction with financial analytics tools that help gather unstructured alternative data sources in an organized format.
Use cases for automated financial analysis solutions
Companies that rely on financial analytics tools expect to get a holistic view of data that includes data from both traditional and alternative sources. These businesses might use alternative data for different purposes that range from budgeting and forecasting to gaining a deeper understanding of competitors or analyzing investor behavior and sentiment. These are just examples of the ways companies rely on alternative data in their financial analytics tools:
Investor intelligence insights
With the right alternative data tools, financial analysis solutions can scan large amounts of data to find patterns that may be indicative of future success. With these data-driven insights, financial analytics services can help businesses identify opportunities and optimize investment strategies. Tools that rely on alternative data help companies monitor existing investments and provide early warning signs of risk so that investors can take action. Additionally, gathering alternative data can offer behavioral insights into other market participants, which can help an end user make more informed investment decisions.
Due diligence
Tools that gather and categorize alternative data help the end-user conduct due diligence by providing a comprehensive and automated analysis of a company's financial statements. This includes a review of the company's financial history, an analysis of the company's current financial position, and a projection of the company's future financial performance. This information helps investors and lenders make informed decisions about the risk involved in investing or lending to a company.
Competitive benchmarking
Automated financial analysis solutions that integrate alternative data can provide more accurate and up-to-date information on a company's financial performance. Alternative data points from sources such as forums, news sites, or blogs can be used to uncover trends and compare the performance of different businesses, information that might have otherwise been missed when only looking at traditional data. These tools can help identify key financial ratios and metrics that can be used to benchmark the performance of competitors so that organizations can see where one company is outperforming another and help to set goals and strategies for how to improve performance.
Fraud detection
Financial analytics tools that integrate alternative data have an easier time detecting potential fraud for their end-users. With data gathered from non-traditional sources such as mobile activity, online forums, or public records, there's a wider variety of data to pull from when searching for indicators of irregularities that might indicate fraud. Through data mining, predictive modeling, and rule-based systems, these automated alternative data tools can help financial analytics solutions assess the risk of fraud in order to uncover specific patterns.
Optimize repetitive tasks
By using alternative data sources to generate automated reports and forecasts, financial monitoring solutions can continue to help save businesses time and money by reducing the need for manual data entry and analysis. Alternative data tools often also provide more accurate and up-to-date reporting, which reduces the risk of human error while allowing businesses to customize reports to their specific needs.
The challenges facing financial monitoring services
While the use cases do provide businesses with numerous benefits, like decreased cost, more efficient processes, and better access to tools that increase performance, the actual application of financial analysis solutions is not without its challenges. In fact, there are a number of roadblocks that can make these tools difficult to rely on, such as:
Missing data – The sheer amount of alternative data out there makes it difficult to keep up with new information as it's released. Providing the end-user with a well-rounded overview of data is paramount to your success as a financial analytics solution.
Lack of context – Analysis tools on their own may not be able to interpret or categorize the sentiment behind the data, which can be critical for making important financial decisions such as investments based on ESG data.
Difficult to get timely insights – Data pulled by financial tools can be delayed or not updated in real-time, meaning the results won't be based on up-to-date information.
Accuracy and quality – Gathering accurate and reliable alternative data can be tricky when it comes from so many different sources. This can lead to generating incorrect insights that can impact the final end-user of the services.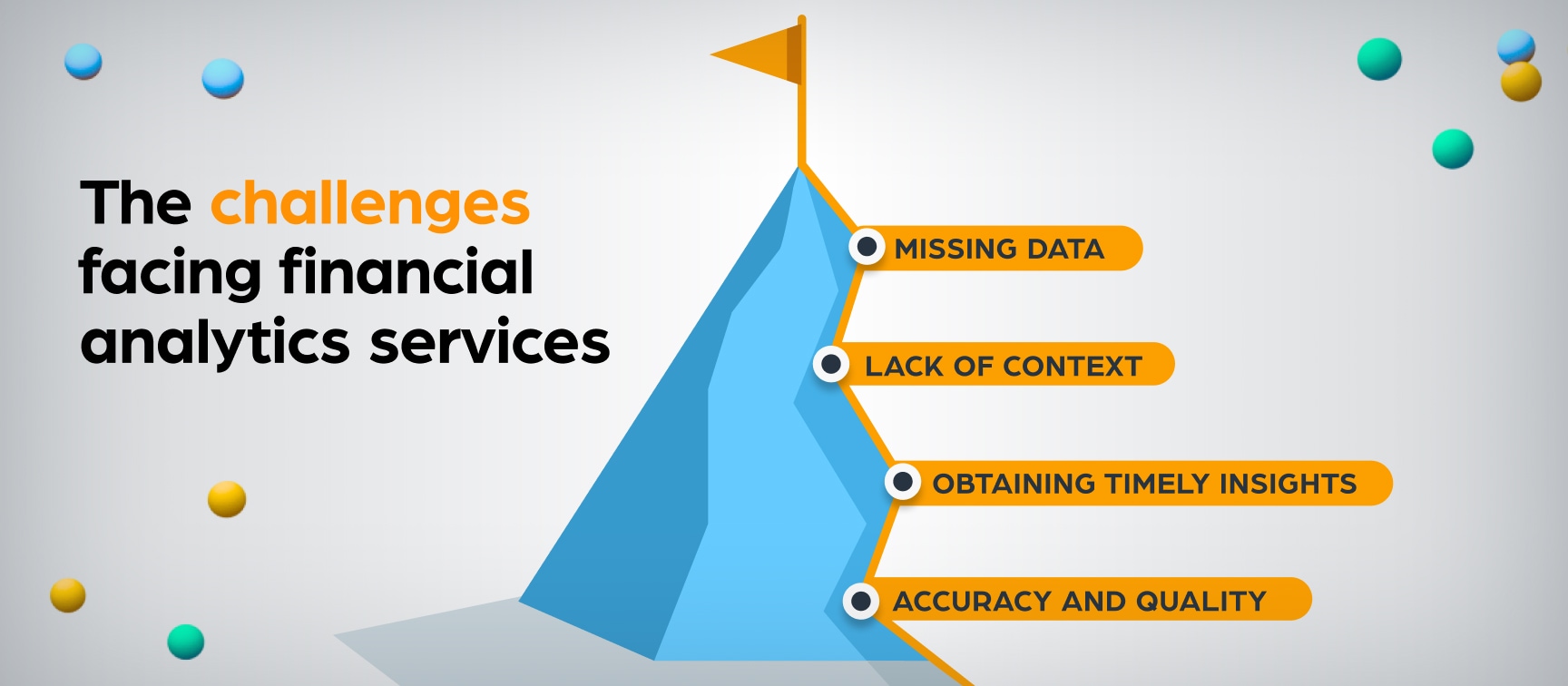 How a News API can help financial monitoring
Using a News API helps automated financial monitoring solutions get data at scale by providing web data from a wide variety of sources in near real-time. It helps automate financial monitoring by providing a more complete picture of events and trends that may impact the financial markets.
Webz.io's News API tool is built with business challenges in mind, helping bridge the gap between your financial automation solution and the data it needs. Some of the advantages of using a tool like News API to bolster your financial monitoring include:
Wide coverage – News API brings together data from millions of sources in over 170 languages, meaning you can trust that the data your financial analysis automation tool uses is meaningful and reliable.
Low latency – With data distilled from multiple sources delivered in near real-time, you're assured that your financial analysis results are topically relevant.
Contextual quality data – Thanks to News API's ability to analyze user sentiment and categorize data accordingly, your data includes the necessary context in order to make informed financial decisions.
Archived data – With 50TB of historical and archived data from news, blogs, and online forum sources dating back to 2008, the data received is both accurate and well-rounded.
In addition to using a News API to gather data for a financial analysis tool, some businesses might also be well-served with Webz.io's Gov Data API. This API provides additional alternative data for those financial institutions that need to stay on top of the latest compliance and regulatory information. The Gov Data API will ensure a financial entity is conducting its due diligence by helping screen new clients and companies according to the most up-to-date regulations.
Final word
Having a steady feed for both traditional and alternative data is essential for offering the most comprehensive analytics and monitoring solutions to your customers. These solutions need to be able to gather the most up-to-date and relevant data sources in order to offer as much contextual data as possible without missing out on anything important.
For financial analytics and monitoring solutions, integrating a News API tool is one of the best ways to ensure you're offering a package that includes a well-rounded overview of reliable data. Webz.io's News API tool is highly customizable to fit even the most stringent financial analysis requirements and provides extensive coverage of data in real-time.
Talk with one of our data experts today to discover why Webz.io's News API is the best tool for optimizing your financial analysis solution.