Introducing the eCommerce Reviews API: A Game Changer in Accessing Product and Reviews Data
We live in a fast-paced digital world where businesses in various industries need access to accurate and up-to-date product and review data to gain a competitive edge. They need comprehensive eCommerce data to help streamline operations — from review management and customer sentiment monitoring to market research and product innovation.
So today, we're introducing the eCommerce Reviews API, a powerful tool that provides on-demand access to structured product and review data from more than 900 eCommerce and marketplace sources. This API offers more eCommerce data coverage than ever, opening a world of possibilities for businesses and vendors that provide them with automated data solutions.
What is the eCommerce Reviews API?
The Webz.io eCommerce Reviews API provides instant, on-demand access to structured product and review data from hundreds of eCommerce and marketplace sources. You get a continuous stream of custom-fit eCommerce data without having to spend time configuring parsers, rotating proxies, or bypassing anti-bot software. The data includes product metadata and verified reviews data (when available), and the results come in JSON format. You get instant access to all the data you need for each product, and it includes flexible search options. Use it to search for similar products or competitor products, entire product categories, reviews of the same products, and much more.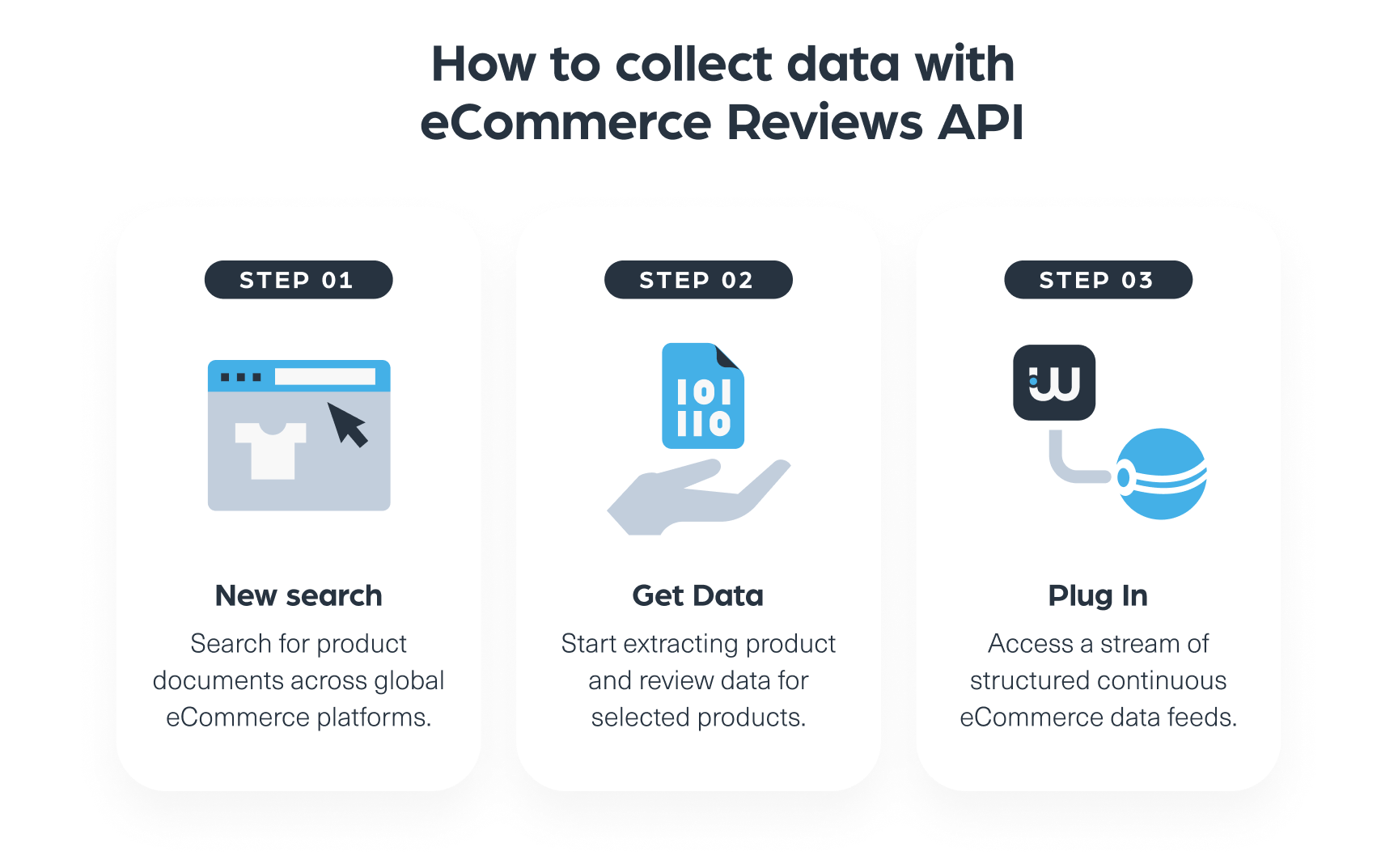 Advantages of the eCommerce Reviews API
Advanced monitoring platforms require massive volumes of quality structured eCommerce data to give their users a competitive edge when it comes to product innovation and marketing. Our new eCommerce API product has several distinct advantages over other similar data products. These advantages include:
Comprehensiveness
With our eCommerce API, you get comprehensive coverage. We support more than 900 eCommerce, marketplaces, and consumer packaged goods (CPG) sources. Our API also provides access to product and review data from growing categories such as travel and hospitality, restaurant and grocery, and jobs platforms. Supported data sources include:
eCommerce and marketplaces: Amazon, Costco, Sam's Club, Target, Walmart, and Wayfair
Travel and hospitality: Booking, Expedia, and TripAdvisor
Restaurant and grocery: Meijer and OpenTable
Electronics: Apple, Best Buy, HP, Lenovo, Samsung, and Sony
Home improvement: Home Depot, Lowe's, and Tractor Supply
Jobs platforms: Glassdoor and Indeed
You can see a complete list of supported data sources here. We're constantly working on staying on top of changes in data accessibility and adding new data sources.
Flexible search methods
We give you three flexible and efficient methods for searching for products you want to collect data on:
By keyword — Easily find products and reviews based on a specific keyword, allowing you to uncover relevant data quickly.
By category — Expand your search through website categories, ensuring you never miss relevant products or reviews data. A category could be something like sneakers, laptops, or smartphones.
By product — Extract details for a single product by searching through its unique URL.
With these options, you can narrow your search to the product and review details that matter to you.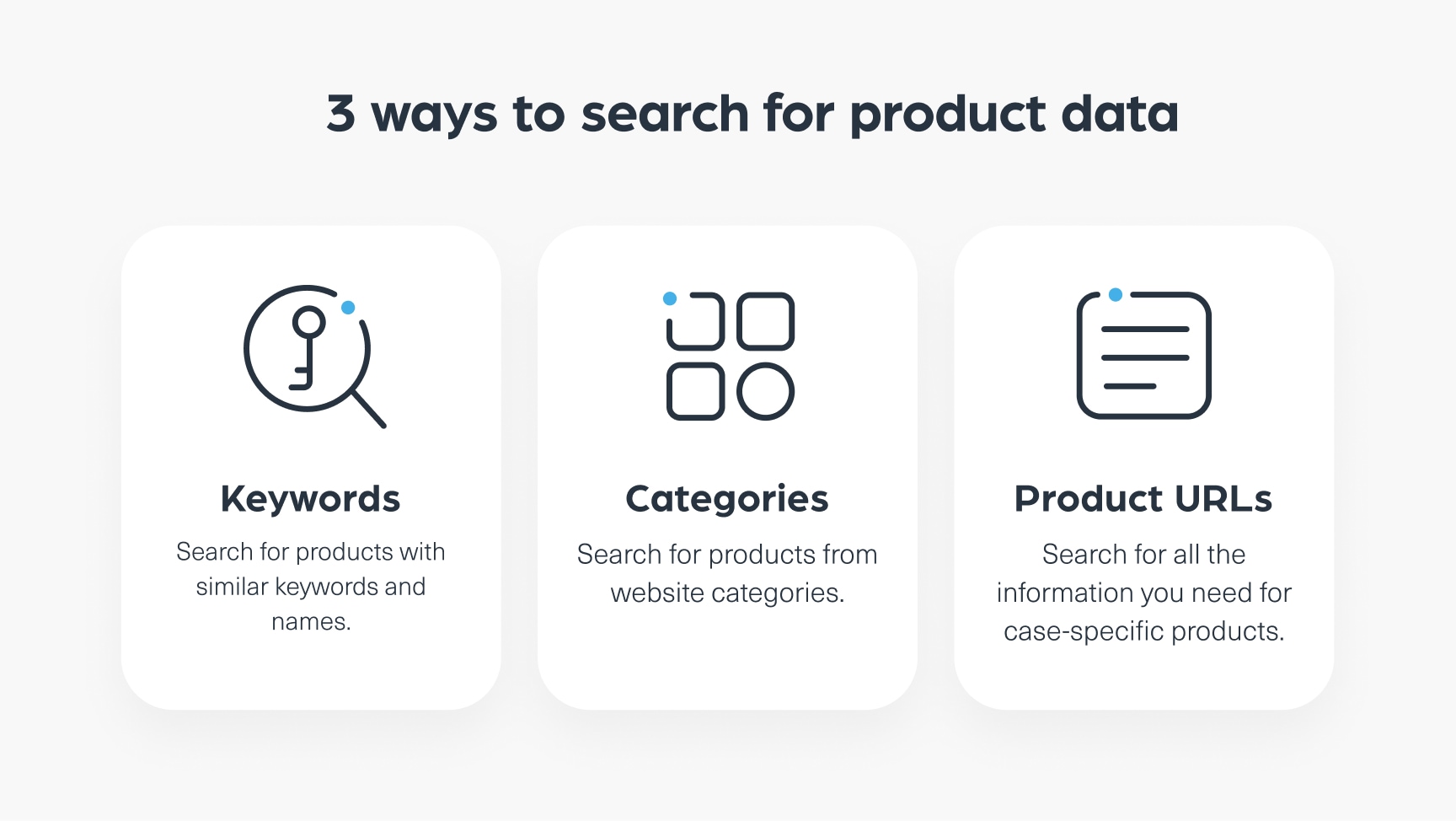 Scalability
We've already gathered structured data for more than one million products and the more than one billion reviews that go with them. However, our system can support quick scaling of product and reviews data — up to 100K products (with reviews) weekly and up to 48 hours latency of historical and ongoing data. This means you can get all historical data in up to 48 hours upon initiating the query, and the API revisits and updates queried data every 48 hours or less. We continually expand the number of sources we cover.
On-demand
The eCommerce Reviews API provides eCommerce data in a structured, machine-readable format allowing users to consume product and review data on demand. By consuming data on an ad-hoc basis, users can get the information they need for any product and gain deep insights into their customers at any time and in near real-time. They can apply the data to various use cases such as review management, customer sentiment monitoring, market research, and product innovation.
How automated data solutions can use our eCommerce API
The eCommerce Reviews API delivers historical and real-time structured product data and product review data on an ad-hoc basis from leading eCommerce sources on the web. Automated data platforms and solutions can use custom-fit eCommerce data feeds in many ways:
Review management — Enable users to continually monitor reviews (verified and unverified) so they know when their customers have posted reviews with negative feedback. Users can promptly respond to those comments, turning them into positive interactions that strengthen brand loyalty. They can also use review data to elevate conversations about their brand or products.
Customer sentiment monitoring — Help your users generate in-depth customer insights by analyzing product information and reviews data at scale. With access to comprehensive eCommerce data, users can uncover customer patterns, sentiment trends, and preferences to enhance their understanding of their target audiences.
Market research — Give users the means to track market patterns and competition by collecting near-real-time eCommerce data. Users can gain valuable information on consumer behavior, product trends, and competitor analysis, allowing them to make informed business decisions.
Product innovation — Help companies track market trends, identify gaps, and understand customer preferences by leveraging comprehensive product data. They can uncover new opportunities for product innovation and stay one step ahead in a rapidly evolving market.
With the eCommerce Reviews API, you can expand the coverage of your automated data solution, providing your users with the data they need to gain deep insights into their products and customers.
Unlock the power of structured product and reviews data
Automated data solutions and monitoring companies face fierce competition as businesses across industries look for easy-to-use solutions that provide relevant and actionable insights at super-fast speeds. Our new eCommerce Reviews API offers comprehensive, structured product and review data delivered through an ad-hoc flow and flexible search options — ensuring that users can quickly find the data they need. Embrace the future of eCommerce insights and take your platform to new heights with the eCommerce Reviews API.
Ready to get started with the eCommerce Reviews API? Talk to one of our data experts.