All About BitChute – Webz.io Source Review
Site Name: BitChute
Date Created: January 2017
Main Purpose: No-censorship Video Hosting Service
Typical Users: Extremists and hate speech in addition to believers of conspiracy theories
Founded in January of 2017, BitChute was created as a free speech alternative to Youtube. According to Alexa ranking, BitChute visitors are mainly from the United States, Canada and Europe. Like YouTube in its structure, its users can comment on each video published on the site in many different channels and profiles. The site uses peer-to-peer technology that allows it to be a decentralized platform. Some critics, however, claim that the site stores all the videos on the site itself. BitChute's users, like those of Gab and Parler, publish a lot of alt-right, anti-semetic and other extremist radical content. Other mainstream sites like YouTube ban similar types of content. Webz.io crawls posts from BitChute on a daily basis. We both identify and crawl dozens of different profiles and channels that share extremist propaganda.

One of the most common radical contents to see on the site is anti-semitic propaganda. This content contains mostly hate speech against Jews and conspiracy theories that match the agenda of anti-semitic groups such as the theory that the Holocaustnever happened.
We are constantly monitoring for this kind of content and crawl it with our Cyber API.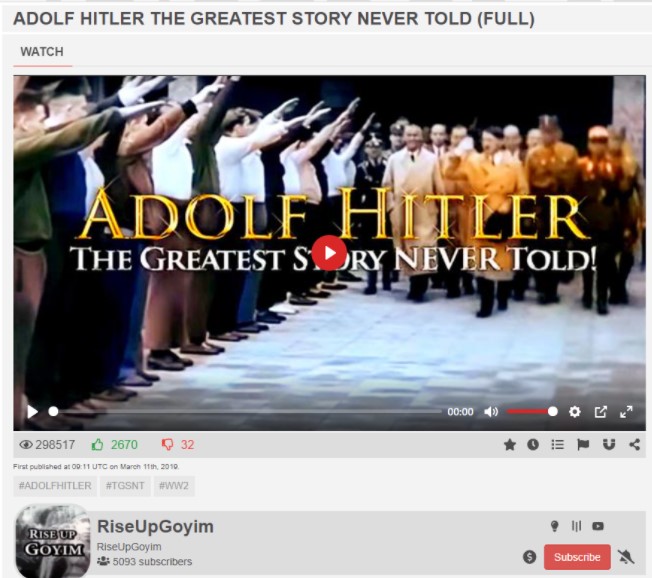 Another example for content found on BitChute is the activity of white supremacy groups such as "Proud Boys." The group members are known to have far-right political opinions and have been previously banned from publishing them on mainstream social media platforms such as YouTube, Instagram, Facebook, etc.

As of June 1st, BitChute changed its Terms Of Service and added restrictions on sharing of content that is deemed as Incitement to Hatred. Even with this critical change to the site's policy, we have still witnessed a lot of extreme content published on the site recently.

BitChute is just one of the many sources Webz.io covers on the dark web. We are continually adding sources – including other free-speech social networks, forums, marketplaces, networks, and chat applications – to deliver the widest and most comprehensive coverage of dark web data in the industry.
Want to learn more about the sources we cover in the deep and dark web? Contact one of our dark web data experts to learn more today!