Source API: Expanding Your Coverage is Now Easier Than Ever
When you run a data-based platform you always look to get all the data you need. This is a bigger challenge when it comes to web data. Because how can you ensure you have all the data you need when the web is so vast and keeps growing every second.
Take for example the time it took you to read this post until now – nearly 300 new websites have been created.
What's more, existing websites keep changing, some are restructured, and others are removed. So how can you or your customers ensure you cover all the sources you need?
Adding sources on demand
To help data-based solutions keep up with this big data coverage challenge, we've created our Source API. This self-service source request processing is a simple API that helps you add new web data sources, such as news sites, blogs, and forums, to your data feeds, at any time and as often as you need them.
How does it work? Your source requests will be sent through the Source API for processing, which is the stage where Webz.io's Source Ingest Engine will analyze your list of sources. If the sources you requested are already covered, you will be notified. If not, it'll be automatically added, further expanding your web data coverage. What's more, you can always go back and check the status of your source request.
By using Webz.io's Source API, you can also track and monitor the status and detailed outcome of each of your source requests and plan your next actions.
Similarly to our other APIs, the new Source API is designed to enable the automation and integration of new sites into your services and site, enabling you and your customers to add new sources on demand.
How can Source API help you?
Web data is a valuable resource for actionable insights. But your insights are just as good as your coverage. With Source API you can have greater control over your coverage.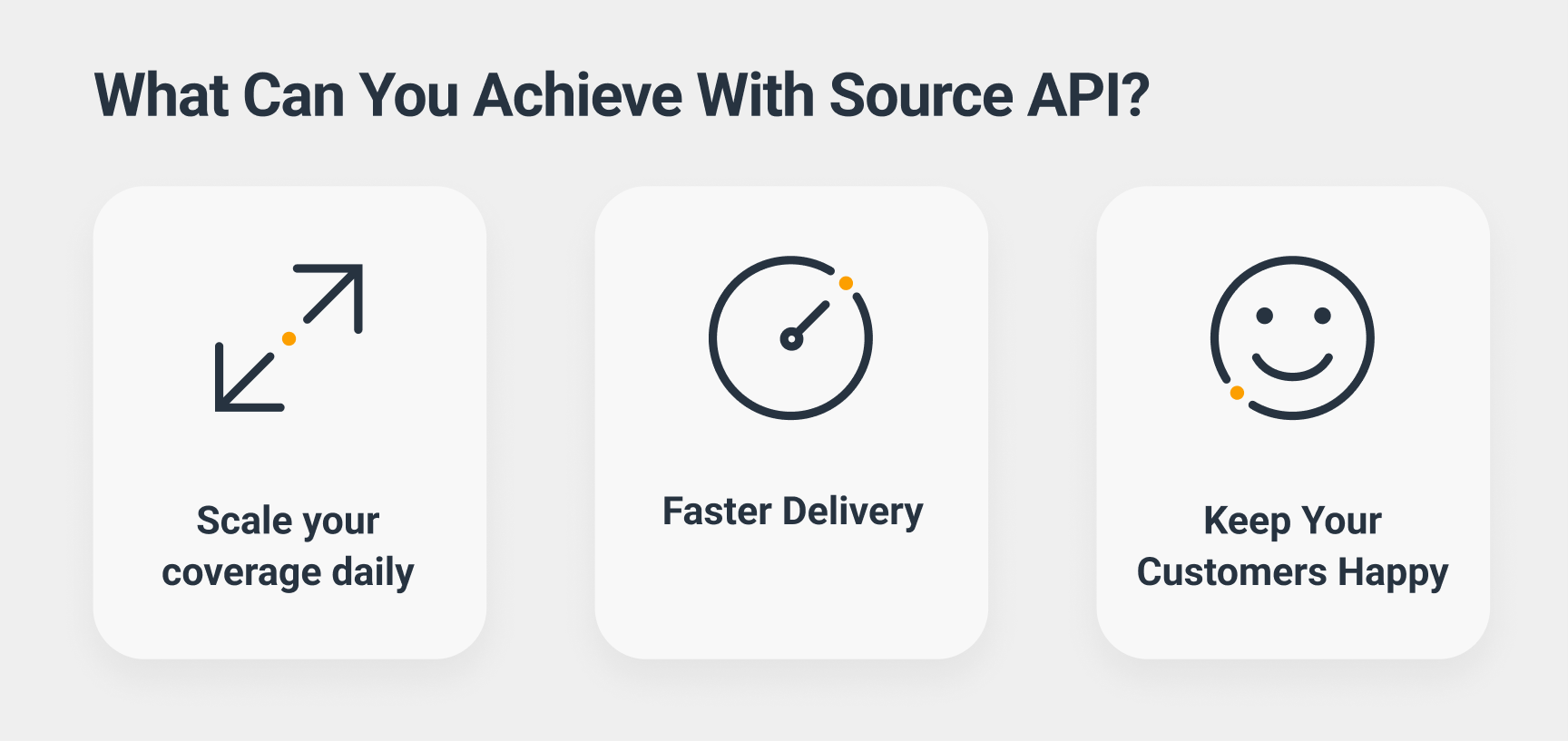 Source API can help you to:
Scale Your Coverage – Using Source API you can scale your coverage literally every day.
Deliver Faster – Using API technology provides you with quality results faster than ever.
Keep Your Customers Happy – The seamless integration of Source API into your services and site allows your customers to share their needs in real-time.
Talk to one of our data experts today to explore how our Source API can help you and your customers scale your web data coverage now.